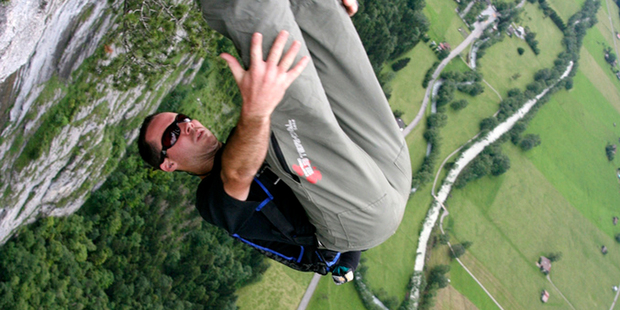 Alan McCandlish was looking forward to qualifying as a commercial pilot after an adventurous European holiday.
But the 31-year-old's life was cut short by a base jumping accident in Switzerland at the weekend.
The Taupo extreme sports enthusiast, who had previously made some pioneering jumps, was too close to rocks when he jumped in the mountain region of Berner Oberland on Saturday morning.
Swiss police said he hit a ledge, plunged over a cliff and fell on to another ledge.
Mr McCandlish was three weeks into a two-month trip around Europe with friends Benjamin MacPherson and Troy Attwood.
He worked as a skydiving instructor for Taupo Tandem Skydiving, and had planned on returning after his holiday.
He was also studying for his commercial pilot's licence, and had 100 hours of flying time to complete.
Mr McCandlish's father, Richard, last night said his eldest son loved the outdoors and adventure sports.
"He was a really active guy ... loved anything extreme. But base jumping was his passion ... In 2008, he and some mates pioneered the Kaipo Wall in Fiordland. They were the first ones to do that."
In 2006, Alan was part of a party of 80 jumpers who took part in the Kuala Lumpur International Jump event. The group jumped from the 421m Kuala Lumpur Tower.
Mr McCandlish said he and wife Sue last spoke to their son two weeks ago.
"He Skyped us on the 30th of June for his mother's birthday. We were also getting emails with photos from him every couple of days."
He said his son and his friends met another group of base jumpers at the start of a climbing route known as Kandersteg. From there, it appears the group climbed higher.
In the Berner Oberland region, about 200km southwest of Zurich, base jumpers leap from cliff edges almost 1100m high.
But the activity is dangerous. It was reported last year that 28 base jumpers had died in the Swiss mountain region.
About 15,000 jumps were recorded.
New Zealander Ted Rudd, 35, died in June last year in a failed jump in Norway.
Richard McCandlish said his son's body was being brought home by his two travelling companions.
"Alan has two younger brothers ... and we will be going up to Auckland to meet them.
"I think he still has some photos on his camera so maybe we'll get some more then."
Mr McCandlish said Alan went to Kihikihi Primary School in Waikato before the family moved to Te Awamutu.
He said Alan became an extreme sports fan once he left school.
Taupo Tandem Skydiving chief executive Hamish Funnell described Alan as a "great employee".
"He's probably done around 4000 skydives in his lifetime and is a natural talent."
Base jumpers jump from tall buildings, bridges and cliffs. They wear aerodynamic suits to enhance the experience and use a parachute to land.
The word "base" is an acronym for the four objects from which jumpers leap - buildings, antennas, spans (bridges) and earth (cliffs).