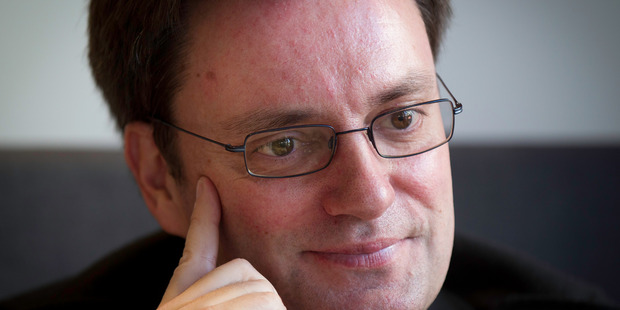 What would Greg King, the brilliant defence lawyer, be like outside the courtroom, or rather as seen on TV in the courtroom? When he watches himself on the TV he cringes.
Because he looks a bit mad? "People can say that. That's my concern, that people are judging me based on a 10-second sound bite."
Not that he cares what people think of him. "I guess I don't really. I've never gone into this job to be popular." Sometimes people in the street tell him he'll burn in hell, so no. He said, about his photograph: "I'd prefer not to have one with a beer in my hand." Why would he worry about that? "I don't think it's a good look. It looks like I'm out on the piss celebrating. Not that I care what people think, of course. Ha, ha, ha. I'm a complex person!"
He gave a four-hour summing up in the Ewen Macdonald murder trial and his mate Bob Jones gave him a ticking off. He said he'd shouted at the jury. He says he raised his voice once, in four hours. I'd like to have heard that discussion. He was in Auckland on Thursday because Bob said, "come to the boxing", and so here he is, shouting at me, three minutes after we sat down for lunch.
A few minutes after this, he was rubbishing my choice of beer. I should have what he was having. "I only put pure things in my body." He used to box, badly, he says, and he claims his boxing name was The Canvas Kisser, but he doesn't look to me to be exactly a gym nut. So, does he really? "Yeah. Steinlager Pure. Coca Cola. Anything deep fried." Anyway, I wasn't, I said, going to get into an argument with a defence lawyer over beer.
He claims he drinks too much. "Far too much. Vampires and blood; alcohol and lawyers. It's an age-old combination. It's got me through many a sleepless night." I didn't think he could get up and do his job if he drank too much. "I don't know if I could get up and do my job if I didn't."
It is to be expected that he would be combative. You can ask him a perfectly innocuous question - what cars he has, say - and he'll decide this is too stupid to answer. "What does that matter?" It doesn't, of course, but he's the one with a website which features a picture of his 1969 Jaguar 420G.
"I guess that's my sort of Facebook. You know, I think there's a perception that we're one dimensional, that our entire life is devoted to keeping drug addicts and paedophiles on the streets to molest our children and that's something that I've always been concerned about." I don't know why he'd care, and, because he's a complex person, he sort of does and sort of doesn't. So he decided, sort of, to answer the car question. "A Lamborghini." Really? "No, of course I haven't got a bloody Lamborghini. But I could have one if I wanted one and if I wanted to do civil law."
That was in response to a question about whether he was driven by money. "Hell, no." He doesn't come from money. His father was a prison officer (his only brother is too), his mother was an early childhood educator. The family lived in a state house until he was five. He isn't terribly interested in ascribing any particular significance to any of this, except that he likes to make an old joke about how his father's and brother's job is to keep people in prison, while his is to keep them out. And, "I despise prison. I think we resort to prison far too readily and far too easily." What does his father think? "Dunno." You'd think they might have discussed it. "We discuss lots of things. We've never had a fight about it."
He is hot-headed to a point, although he cools down as quickly as he erupts. And it is entirely my fault that he shouted at me so early on. I'd mentioned a picture of him, in court, in his robes, a really theatrical picture, that had appeared in the Herald the day I saw him. He said a man on the plane in the seat next to him had been reading the accompanying article. This is the sort of thing that happens when you are a high-profile defence lawyer, but it is still odd - being recognised and having people in planes next to you reading about you and looking at your picture.
"Yeah, because you're not a singer or an actor or a dancer or something like that. I mean, I'm recognised for doing what is often seen as dirty work." Which is where I said, lazily: "You are an actor, aren't you?" What I meant was that there was an element of theatricality to a courtroom, but too late. He shouted: "No, I'm not an actor! No, absolutely not and it offends me when people suggest that ... Because it's not a f***ing game. It's about as real as life gets, because people's lives are on the line."
So when we see him on the TV, even in those 10-second sound bites he objects to, that is him. "I'm a passionate person. I wear my heart on my sleeve I suppose. Some people don't like that. The theatre analogy is something that went right through this case. They talked about the drama of the court, about the best show in town. It wasn't a flipping show."
We had an hour to go. This sort of stuff, (and by association me, I didn't need to say) pissed him off then, I suggested, redundantly. But, "It doesn't really piss me off. It annoys me slightly." Slightly! I was rather glad I hadn't seriously annoyed him, but even if I had, I don't think he'd have been put off his beer.
He's used to people being annoying. During the trial he had around 200 messages from people. Really, do not ring him with your theory about shotguns. A lot of "idiots" did this, including one who left a message saying: "I don't know how much you know about firearms. I assume very little." Well! He rang back and said: "Why would you assume that?" He's had a firearms licence since he was old enough to hold one; he comes from a hunting family.
"I've done dozens and dozens of cases that involve every form of ballistics evidence known to humanity, including the Privy Council." Got that? Do not ring him with your assumptions, or you will get what you deserve. Honestly, why doesn't he just ignore these people? "Because I'm a sadist. And, I suppose these people are wanting to be helpful." He had just called them idiots, but, as I say, he blows hot and cold.
They are mercurial and curious creatures, top lawyers, which makes them great good fun to have lunch with despite, or possibly because of, the shouting. It is just possible that top lawyers might have rather a large ego. "It's like the heart surgeon. How arrogant is it to open you up and perform heart surgery? You have to be bloody good at what you do, otherwise you shouldn't be doing it. Does that mean ego? Does that mean arrogance? It probably does. That's probably a natural consequence."
As is the profile. He was on the front page of the Herald yesterday, pictured at the boxing with Bob Jones. He says he wouldn't have gone if the jury had delivered a guilty verdict - he'd have been licking his wounds in private. But he insists there is no jubilation attached to an acquittal, simply relief that the right decision has been made: "That the evidence wasn't there to justify a conviction. And so in my heart, he shouldn't be convicted and I'm just talking evidentially." You don't, he says, turn cartwheels in the street.
What did he do? He seemed to vanish. "Do you want to know? I didn't want to speak to the media. So I went out a side door and snuck along the road and there was a pub, The Thistle, and I thought I'd go in and have a quiet drink ... and unfortunately there were a couple of jurors inside, so I turned straight around and went out and a cab was coming past so I hailed it and it was my great mate, Ewen Chatfield, the former legendary cricketer ... and there we were driving along and I rang my mum because it was her 62nd birthday and he said, 'oh, it must be a good day for birthdays'.
And I said, 'why?' And he said, 'because it's my 62nd birthday today!' So he came up home and, he doesn't drink, so he had a ginger beer, and I had a beer and mum and dad came down because they live in a house behind mine. And then I was sound asleep by 9 o'clock."
That's a good story. But what's it about? It certainly worked as a sop to my questions about profile and media attention, and courting them, but I'm certain that's not why he told it. He told it because I asked. He's not at all slippery; if you ask him something he'll either answer it, or not. He wouldn't of course talk about Ewen Macdonald, except: "On the record I do like Ewen Macdonald. I don't want any confusion about that. He was a very affable chap." That made me splutter, because: What about the vandalism? He does steely as easily and swiftly as he does shouty: "I'm not going to discuss that. And how many houses are going to be vandalised tonight? It doesn't mean you're a murderer. Simple as that."
Is the lawyer an affable chap? He can be. He just doesn't put any effort into charming for the sake of it. That would be acting. He is a serious person who can, at 42, be boyishly silly. He has a liking for terrible jokes - he was head boy at Tongariro College, but only because it was such a small school, he says, that they didn't "have a dux, we had a goose" - and for cutting sarcasm.
He loves boxing and league and art and watches, which he is attracted to "mechanically". He's dead soppy about animals and he and his wife and their two young children have four old cats, a dog, and share four chickens with his parents. One of the chickens is called Boo Boo Chicken! "Well, the kids named them, Michele!"
He is, whatever he says, a brilliant lawyer (I put that in, twice, just to make him shout again; he says he's not "stupid enough" to believe the "hyperbole') who no longer loves his job because: "It's hard yakka. Who wants to do that forever?" He collects books and never gets to read them. Another of his jokes is that his great dream is to one day be put on home detention for a year so that he can read all of his books. He has, I think, a love hate relationship with his high-profile image.
All of which is by way of saying that he'll get no argument from me about being a complex person.