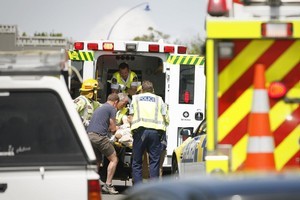 A man whose van killed a workman was convicted and fined at Tauranga District Court today.
Andrew Charles Cundy was found guilty of careless operation of a motor vehicle causing death last month after his vehicle hit Shi Jun Zhang.
The summary of facts detailed how Cundy parked his work van uphill at the top of a steep driveway in Castlewold Drive, Bethlehem, in October 2010, and applied the handbrake with an "extra click'' to ensure it held.
However, he failed to park the van in gear or turn the van's wheels away from the kerb, as recommended in the New Zealand Road Code.
About 10 or 15 minutes later the handbrake failed and the van careered down the driveway and across the road at speed, collecting Mr Zhang and pinning him to the ground.
Judge Robert Wolff ordered Cundy, 40, of Pyes Pa to pay $5000 to his victim's family.
Mr Zhang, 53, had been working on the foundations of his new house and was standing on the driveway talking to two other workers when he was caught by the vehicle and dragged underneath it. He died at the scene, despite attempts to resuscitate him.
During Cundy's defended hearing, police argued the way he parked uphill without following the steps advised in the Road Code, and his conduct fell below the standard of driving required of a reasonable, prudent driver.
Cundy's lawyer Rachael Adams argued her client could not have foreseen the handbrake releasing for some "unexplained or inexplicable'' reason and his driving actions that day did not meet the legal threshold test required to satisfy a criminal conviction for carelessness.
"Mr Cundy had parked up in the same way in the same place for some eight weeks without incident and otherwise he had a well-maintained vehicle with no mechanical issues.''
Judge Wolff disagreed.
He said: "I'm satisfied the elements which go to make up this charge have been proved beyond reasonable doubt.
"I am satisfied that no reasonable prudent driver would rely on a single mechanical brake as a safeguard to prevent rollback and I'm satisfied it was careless to do so.''
For more articles from this region, go to Bay of Plenty Times