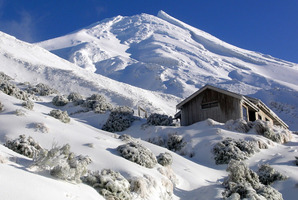 A tramper was rescued from Mt Taranaki yesterday.
The hiker, in his early 50s, had fallen down a 20m gully near Kapuni Lodge.
He was with his wife. They were roughly at an altitude of 1600m when the incident occurred.
Rescue staff from the Taranaki Community Rescue Helicopter said they were alerted about 2pm by ambulance services.
Crew member Mike Johns said he and one other member of his team were lowered into the gully, known as The Knoll, to rescue the hiker.
"We arrived there about 3 o'clock ... and he had lacerations to his head and hands," he said.
Mr Johns said the hiker was in relatively good spirits despite his injuries.
"He'd lost a fair bit of skin because he'd basically slid down the gully. But sliding down the ice up there is a bit like sliding on sandpaper.
"His partner was unhurt and waiting for rescuers from the top of the gully."
Mr Johns said the hikers were pleased to see the rescue helicopter.
"By then, it was fairly cold as that side of the mountain had been in the shade for a while.
"They were both winched off [the mountain].
The hikers were then taken to Taranaki Base Hospital, in New Plymouth.
Chief crewman Jayden Strickland said both the hikers were well equipped for their trip.
"They were day hikers going into the snow for the day.
"I think what happened was the crampons on his boots, which help give him grip, may not have been laced on properly ... causing him to slip."
Members from the Taranaki Community Rescue helicopter team also rescued two climbers from the mountain less than three weeks ago.
Last month, two men were swept 500m down the mountain by an avalanche.
The climbers, both from New Plymouth, were buried by snow and lucky to escape with only minor injuries.