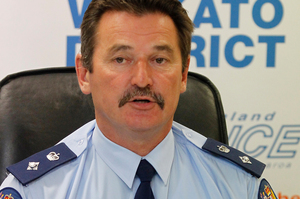 Up to seven support staff could lose their jobs in a Waikato police reshuffle aimed at putting more frontline police on the streets.
The restructure affects 62 non-sworn clerical and watch house staff as the district plans to join a national police call centre from next year, where all non-urgent crime complaints will be forwarded.
The crime reporting line centre, based in Auckland, already handles calls from Auckland City, Counties Manukau, Bay of Plenty, Hawkes Bay, Gisborne, Canterbury and the East Coast.
Residents in those areas who call their local police station are automatically redirected to a station in the nearest main centre where a call-taker forwards non-urgent crime reports, such as a burglary that happened the day before, to the 24/7 call centre.
Next year the rest of the country will follow suit with the Waikato police district second in line to join the centre.
One of the objectives of the "One Waikato" review was to contribute to a 4 per cent reduction in employee salary.
Waikato District Commander Superintendent Win van der Velde said the 62 support positions across the district would be merged into 55 under the proposed restructure, released to staff on Tuesday. They included dozens of watch house staff who answer station calls and deal with the public over-the-counter.
Those effected worked in Morrinsville, Matamata, Thames, Paeroa, Waihi, Te Awamutu, Cambridge, Te Kuiti, Huntly, Ngaruawahia and Hamilton.
Many of the positions would be disestablished and new roles created including a File Management Centre in Hamilton, but Mr Van der Velde could not say if staff who moved to new positions would be forced to take a pay cut.
He agreed there would be some redundancies if people did not want to reapply or move to another town where a new role was created.
Mr Van der Velde said the restructure was focused on preventing crime and getting more frontline police on the streets, and faster.
"The focus of police is moving away from responding to crime and actually investing in activities that prevent the crime from occurring."
To achieve more foot patrols and preventative policing, Mr Van der Velde said the key was providing "better support in the back room, both to the public and the front room".
That included the crime reporting line for non-emergency calls.
"So instead of me committing staff to taking the complaint, we now have a team servicing that need across the country, taking the complaint electronically."
Once the system is in place the intent is for frontline police to make an arrest and process the offender within 15 minutes.
At present that paperwork could take up to two hours of a police officer's time, Mr Van der Velde said.
CIB, fraud and other detectives, who were not frontline police, would benefit through being freed up to investigate organised crime and recidivist offenders, he added.
But a police officer who did not want to be named said while the proposal might reduce administrative work for frontline staff, it would increase it for other police.
The officer said people in small towns did not want to ring a call centre and the fear was that residents would end up at the front counter to make their complaints, which would take up frontline police time.
Eastern Waikato senior constable and Police Association region three director, Wayne Aberhart, said he was concerned if jobs were lost but police had to move with the times and if it meant they were being more productive, "that has to be a good thing".