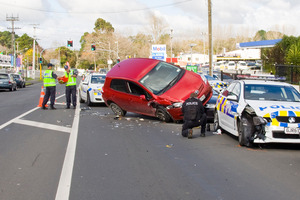 A mother escaped serious injury when a car being chased by police smashed into a patrol vehicle and then rolled onto her car in South Auckland yesterday.
The 36-year-old male driver was arrested and charged with driving offences after the incident on Great South Rd in Manurewa. Police are also speaking with his 36-year-old female passenger.
Inspector Richard Wilkie said police became interested in the vehicle when it was spotted in Te Kauwhata about 10.30am.
Officers, who found it to have been stolen, signalled for the driver to stop but he drove off at speed.
The vehicle was again spotted at Pokeno, further north, and police followed it 30km along State Highway 1 into South Auckland.
The driver spent some time travelling around Manurewa side streets - Mr Wilkie suspected the driver may have been looking for a familiar address to hide at - before pulling into the Mobil petrol station on the corner of Mahia Rd and Great South Rd.
A police patrol car was parked near the entrance to the petrol station and the driver being followed drove straight into it, causing it to roll onto another car with a 47-year-old local woman inside. She suffered minor bruising to her shoulder. The officer, who was the sole occupant of the police car, was uninjured.
The Independent Police Conduct Authority has been notified but Mr Wilkie was adamant officers had acted appropriately.
He said the officers' actions may have prevented the incident resulting in serious injury or death.
"We want to reassure the public that we're going to be doing everything we can to stop these drivers. Prevention is what we're about - we want to stop it before it happens and people are injured," he said.
Mr Wilkie said the driver was wanted on a warrant for multiple unrelated matters.
In a separate case, the IPCA yesterday found police were "unjustified" in pursuing a car through Auckland streets at speeds of up to 150km/h, a chase which ended in a fatal crash. Api Kao Aue, 33, was killed and his two passengers seriously injured when he lost control of his Subaru Impreza, which slammed into a street sign on Kirkbride Rd, in Mangere, late on December 4, 2010.
- APNZ