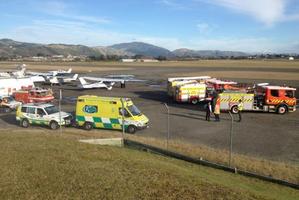 Emergency services at the Kapiti Coast Airport respond to a plane in danger. The plane reportedly crashed elsewhere. Photo / Supplied
A vintage fighter plane has crash landed west of Shannon in the lower North Island.
Kapiti Coast Emergency Medical Services director Chris Lane said three people including the pilot were in the aircraft but all escaped relatively unharmed.
The pilot is reported to have facial lacerations and head injuries but is conscious and talking to emergency services.
Mr Lane said the plane developed engine trouble after taking off from Levin bound for the Kapiti Coast airport at Paraparaumu.
Wellington Free Ambulance received a 111 call at 2.36pm regarding a crash landing.
The plane went down near Denton Rd about 2.30pm, Police Central Communications spokesman Wayne Ewers said.
"I don't know whether you'd say it's gone down, or crash landed, anyway he's down on the ground.''
Kapiti Coast airport was put on standby for an emergency landing.
- APNZ