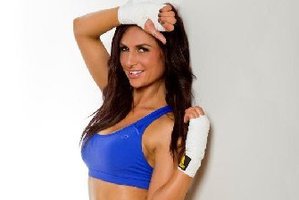 Stories making headlines across New Zealand at noon include some grandparents banned from looking after a baby relative because they are self-confessed smackers, tough clothing decisions for GC star Rosanna Arkle and the dog that was shot and left for dead.
Brian and Hannah Johnson's belief in smacking has resulted in them being banned from taking in their baby grand-daughter.
GC star Rosanna Arkle can't decide if she will wear a skimpy leopard bikini or something else in her boxing match with Jaime Ridge.
Someone shot this dog and left it for dead but it was found starving and disoriented in the bush and was "really distressed."
About 15 minutes from Te Puke township they are drilling for diamonds and mining for gold and silver.
"There isn't a whole lot you can do on a bike indoors" but three Rotorua teenagers won $10,000 for doing what you can.
Chris Getty's enthusiasm for paintball hasn't been curbed by a freak accident where he was shot in the eyeball and may lose sight in that eye.
The Otangarei family being evicted from a state house by Housing New Zealand have been given a slight reprieve.
An 18-year-old Hawke's Bay woman is in a critical condition after her car ended up crushed against a concrete retaining wall.
A 16-year-old boy was found wielding a speargun and smashing car windows in a Napier suburb yesterday. Meanwhile someone shot dead two cute blue penguins on the Ahuriri foreshore.
Hawke's Bay councillors are looking for a second domestic air carrier that wants to fly to the region.
Former Masterton District councillor Roddy McKenzie is concerned about proposed new loos.
This is the best thing that ever happened to Wanganui man Gary Smithies.
Russell Bell of Zenith Solutions has had one Telecom email outage too many.
Merepeka Raukawa-Tait says children will often disclose they wished their parents had separated earlier.
Should parents of truants be taken to court?
Able-bodied people who park in mobility parking spaces apparently deserve to be "clamped and crushed,"
Gisborne eight-year-old Julian Davis-Gorrie has built a working replica of the Golden Gate Bridge out of ice block sticks.
Meanwhile there appears to be movement at the Marmite factory in Christchurch. But this doesn't have anything to do with the 165cm tall Yoda made out of snow.
Dunedin's wood Samaritans have rallied in support of Wendi Raumati.
In Oamaru, Heidi Rawson first became aware something was wrong when she heard her friend shrieking.
Meanwhile as Oamaruvians settled in to watch the second rugby test against Ireland, a goose flew towards a 33,000kV line in Shortland Rd in what would be its final flight.
Over on the West Coast, Hokitika parish priest Father Jolly is not so happy.
Top trending topics on Twitter in NZ at noon include #EndFossilFuelSubsidies, #GOVIS2012, #10WorstFeelings, CEO, #20FactsAboutMe, #MSMajorAnnouncement, #Euro2012, Spain, Europe, and #BELIEVE.