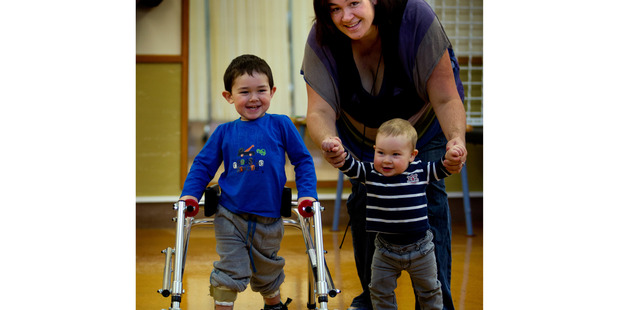 Two-year-old Aiden Lints is aiming to start walking without any help before his baby brother does.
And yesterday, as he was sent home to Te Puke after eight weeks of intensive physiotherapy, the toddler was happily moving around with his tiny walking frame, defying doctors who warned his mother he might never get on his feet again.
Three months ago, Aiden was in hospital unable to move his legs after a car accident severed nerves in his lower spine and broke his right leg.
Aiden was flown to the Starship hospital. His mother, Monique, was taken to Tauranga Hospital with a cracked pelvis and a broken wrist.
Aiden left the Starship after Easter to start rehabilitation at the Wilson Centre for Children on the North Shore, wearing a back brace to support his spine.
His physiotherapist made him stand up often to strengthen his legs, and used games to make him reach for items and strengthen his muscles.
When the brace was removed about three weeks ago, Aiden was given a walking frame.
Mrs Lints said: "I just cried. You could tell he was thinking, 'Oh my gosh, I've got that freedom again'. There's no stopping him now. He was so reliant on me and my husband and he hated it. Now he's just a happy 2-year-old."
Yesterday, Aiden couldn't stop smiling as he completed his last physio session before being discharged.
Physiotherapist Sarah Anderson said: "His leg strength has improved amazingly - he's definitely doing really well. He's been so much fun to work with. He blows us kisses all the time."
Aiden's 11-month-old brother, Danyon, often imitated his older brother, Mrs Lints said, and had started using the walker.
"I've told him [Aiden] he's not allowed to start walking until we get home," she joked.
"There's definitely a lot of competition between the two boys."
Aiden still has no feeling from his ankle to his toes and wears splints on his legs.
Mrs Lints is hoping her son will be well enough to start kindergarten by his third birthday, in September. But he has a long way to go and will be under the care of the centre and doctors until he is 18.