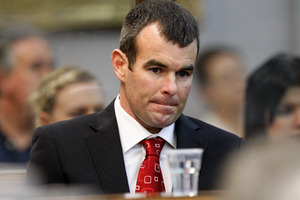 Murder accused Ewen Macdonald told police he gave his brother-in-law Scott Guy "a blast'' about not pulling his weight on the farm.
Two transcripts of interviews with Macdonald following Mr Guy's death were read out at his murder trial in the High Court at Wellington today.
Macdonald, 32, has denied shooting and killing Mr Guy, 31, on July 8, 2010 after growing tensions over the future of the family farm in Feilding.
In the second police interview, which took place over three days that month, Macdonald spoke of a "competitive aspect'' to his relationship with Mr Guy and his wife Kylee.
He looked down in the dock as Detective Graeme Parsons spent more than an hour reading the transcript.
Macdonald said he had his "first and last major argument'' with Mr Guy at a dinner to celebrate the fifth birthday of the clothing shop run by his mother and sister-in-law Jo and Nikki Guy.
He and wife Anna were late because he had to stay on at the farm, while Mr Guy knocked off early so he could make it on time.
Macdonald said in his statement that he was "a bit grumpy'' about working late and he no longer wanted to go to the dinner, but his wife insisted they attend.
He felt Mr Guy was not pulling his weight and made his feelings known at the dinner.
"I was pissed off and gave him a blast about leaving before the work is done,'' he said.
Macdonald said Mr Guy got angry and stormed off with Kylee, but the men made up the next day.
Senior Constable Terry Moore earlier read aloud a transcript of the first interview with Macdonald, conducted the day after Mr Guy's death.
Macdonald told police he was not worried when Mr Guy did not show up to do the milking on the morning he was killed because there were enough workers to get it done.
He sent a text message and tried to call Mr Guy's cellphone, but he did not call his landline so he would not wake Kylee Guy.
"Scott had previously asked me not to phone because Kylee was pregnant and the landline phone was right beside her bed.''
Mrs Guy earlier gave evidence that she had never given that instruction.
Macdonald also told police how he "shot up'' to Mr Guy's property after a neighbour called him to say Mr Guy was dead.
Police told him not to move any closer, but he was close enough to see Mr Guy's body.
"I could see Scotty lying in the driveway in front of his ute.''
Macdonald told police he thought he might have been the intended target, and also mentioned that the gates to Mr Guy's property were usually open.
The Crown alleges Macdonald shut the gates to trap Mr Guy in his driveway, where he was shot dead.
The court earlier heard how police whittled down its list of suspects to Macdonald, who was arrested last April - some nine months after Mr Guy was killed.
One suspect, whose name is suppressed, was ruled out by the alibi of a woman who smoked up to $3000 of methamphetamine a week and admitted threatening to kill a police officer and their family.
Under cross-examination by defence lawyer Peter Coles, Detective Sergeant David Thompson agreed police used her statement as the sole alibi for a man linked to an aggravated robbery and firearms crimes ahead of Mr Guy's death.
In narrowing the list of suspects, police looked into any possible criminal associations and extra-marital affairs, but ruled out both.
"All of those inquiries came to zero,'' Mr Thompson said.
Investigators later came to believe that arson and vandalism attacks on the Guys' property would lead to the killer.
"It was crucial that we found the person responsible for that.''
An old house on a trailer that was to be shifted off the property was burnt down, and a new house being built on the property was intentionally damaged and had graffiti drawn on its wall.
The Crown alleges Macdonald carried out the attacks to intimidate Kylee Guy into leaving the farm.
Police ruled out a burglary gone wrong early in their investigation.
Macdonald informed police the day after Mr Guy's death that three of the Guys' chocolate labrador puppies were missing.
"From the scene examination I found it highly unlikely that it was a burglary gone wrong,'' Mr Thompson said.
The Crown alleges Macdonald killed and buried three of the puppies to deflect police inquiries.
Investigators also ruled out a link between Mr Guy's death and speculation he had discovered cannabis growing on the property.
Police found two plants by the river bordering the property but Mr Thompson said it was a "minor seizure'' and the person who planted them had been prosecuted.
Two seedlings were also found in the cottage on the family farm but that matter was also dealt with.
The trial before Justice Simon France and a jury of 11 continues tomorrow with the court to be shown a video interview with Macdonald.
- APNZ