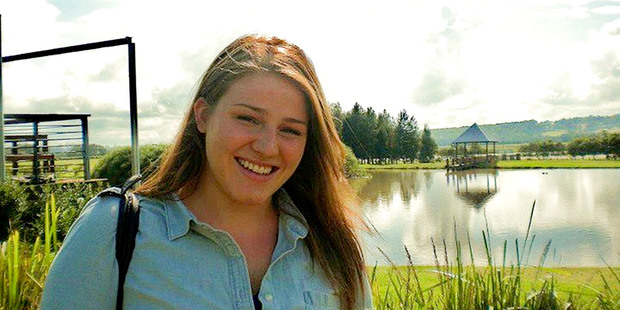 The American tourist who was seriously injured in a crash near Turangi that killed three of her fellow students has flown out of the country on the same day the driver was convicted and discharged over the incident.
Meg Theriault, 21, was put in a medically induced coma in Waikato Hospital for two weeks after receiving life threatening head injuries, when the van she was travelling in rolled on May 12.
Daniela Rosanna Lekhno, 20, Roch Jauberty, 21, and Austin Brashears, 21 were killed and four others were injured in the crash.
Ms Theriault flew out of Hamilton International Airport this afternoon on a medi-flight bound for Boston, Massachusetts, but her mother Deb said her daughter would return to New Zealand once she finished her studies at Boston University.
"She will thank everyone in person and she will do that Tongariro Crossing.
She's a determined girl and as a family we'll be here to support her," she said.
Todd and Deb Theriault said they wanted to thank everyone in the country and said they were overwhelmed by the kindness shown by New Zealanders.
"We just cannot find the words to thank the staff at Waikato Hospital and the wonderful Kiwis that have made us feel so welcome here.
"There are too many special individuals to name. As we land in Boston, we will be back with Meg's extended family and so many of her friends that have sent their love and prayers to her from the other side of the world."
Earlier today, fellow student Stephen Houseman, 20, was convicted and discharged but disqualified from driving for six months and ordered to pay court costs of $132 over the crash last month.
He pleaded guilty to three charges of careless driving causing the death of his three fellow students and also pleaded guilty to four counts of careless driving causing injury to Kathy Moldawer, Alys McAlphine, Emily Melton and Meg Theriault.
Houseman's lawyer Marie Dyhrberg had sought a discharge without conviction, arguing his careless driving was "at the very low end'' and the consequences of a conviction outweighed the offence. The victims' families supported that, she said.
"This is someone that I can safely say enjoys, and still does despite this terrible tragedy, enjoys a reputation of being very responsible, very conscious of road safety and exhibits great leadership qualities,'' she said.
- HERALD ONLINE