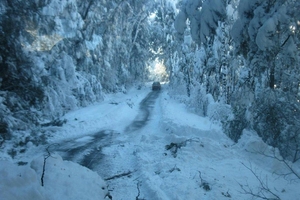 Both South Island alpine passes were reopened by the end of today after being closed by heavy snow and fallen trees.
An New Zealand Transport Agency spokeswoman said Lewis Pass and Arthur's Pass were now open but advised drivers to take "extreme care".
Drivers were told to watch out for ice and to carry chains.
Meanwhile, Orion said just a handful of Canterbury homes remained without power this evening.
Spokeswoman Gina Clarke said there was about "10 or so scattered properties in remote rural areas" still without power.
It will be their third night without power after an icy blast sweeping up the country earlier this week saw power cut to thousands of homes.
WeatherWatch spokesman Howard Duncan said conditions would to improve in Canterbury overnight.
"There still could be a few light snow flurries in some of the higher elevations and a couple of centimetres [of snow] aren't out of the question.
"It's looking like a pretty decent Saturday and certainly a decent Sunday - Sunday looks beautiful actually," he said.
Christchurch police spokesman Sergeant Dean Lawrence said drivers should treat all roads as if they had ice on them when driving tonight.
"It's probably going to be minus 2 overnight so I daresay any snow or moisture left on the road will be turned into ice."
He said there were no accidents on the roads recently and Christchurch City Council had been putting grit on the roads over the last two days.
St John South Island regional operations manager Chris Haines said its workload today had been busy but not excessive
"Road conditions have improved but there is still icy patches around so we urge drivers to be careful," he said.
This week's bad weather stopped trains, buses, the post, flights and closed schools and businesses.
- APNZ