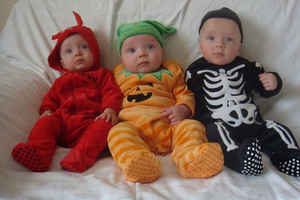 Vigils were held throughout Qatar overnight for the 19 victims, including New Zealand triplets, killed in a shopping mall fire.
Lillie Rhona, Jackson James and Willsher John Weekes, who turned 2 in March, were among the 13 children killed in the fire in the Villaggio Mall in Doha.
Their bodies were recovered after they died of smoke inhalation. At least six adults also died in the fire.
The blond Weekes toddlers started attending the mall's daycare centre only two or three months ago.
Relatives yesterday flew to the Middle East to be with the toddlers' parents, Martin and Jane Weekes.
Overnight, 1,500 gathered for a vigil at Aspire Park in Doha, near to the mall, to remember the victims of the tragedy.
The Weekes were supported by other expat Kiwis, who performed a haka for the grieving couple. The vigil was one of three in the city.
The Weekes stood quietly crying as they watched the haka being performed.
New Zealand journalist Mereana Hond joined about six men to perform a haka directly at the grieving parents.
Mr and Mrs Weekes stood clutching soft toys as a group gathered around the pair to watch the haka.
New Zealand flags were also being held by people at the vigil.
TRIPLETS TOUGH START TO LIFE
The triplets were born in Wellington on March 11, 2010. Mr and Mrs Weekes had returned from Doha to Wellington for the births.
The babies were 10 weeks premature and had a tough start to their lives.
Born at 11am, 11.01am and 11.02am their birth notice described them as a "proud addition" to the family. The couple have three older children - Natalya, Tatyana and Nikolai - who attend schools in Doha.
"Three new Weekes announced for March," the notice said.
"Mum and Dad would like to thank the NICU team for being there, taking care and making miracles happen - three little Weekes welcome to our world."
Just after the triplets turned 2 Mrs Weekes won the "Best Mother in Doha" competition. In her entry she wrote about being rewarded "threefold" for loving her babies.
"A mother's love is not divided amongst her children, but multiplied by each child."
She also spoke regularly about the children on an online forum for mums of twins and triplets, where she revealed details of the babies' early birth by caesarean section.
At birth the triplets weighed 1.1kg, 1.3kg and 1.5kg and were on oxygen. All had blood transfusions.
But as they got older and stronger they became known as "the monkeys".
"Monkeys were NICUed for 9 pretty uneventful weeks and are now super active, healthy toddlers," she wrote.
"It was a little like two steps forward, one step back, as they grew stronger (in NICU) but they are now perfectly healthy normal 16-month-old toddlers," she said.
"They are so blessed to be surrounded by so much activity (they are SUPER busy!) and smiles and laughter."
Recently she spoke of potty training the trio and dressing them.
"My triplets are 2 and I still love co-ordinating their clothes, like jeans and different coloured polo or T-shirts, or different styles but same colour. Before they were born I, too, said I wouldn't - but yup it's too cute to resist."
When another mother on the forum miscarried triplets Mrs Weekes was one of the first to offer kind words.
"I am so sorry for your loss and hope you and your family are surrounded by love and support," she said.
GRANDPARENTS RUSH TO DOHA
Mrs Weekes' father, Ron Turner, said the family were very grateful for all the kindness and support since the triplets' death.
Mr Turner and his wife, Jo, were flying to Doha last night from Wellington.
"She [Mrs Weekes] phoned us from Doha just after the babies had been found and reported dead," Mr Turner told Newstalk ZB.
"They had died of smoke inhalation ... She was still just as numb I suppose and just as empty as my wife and I feel right now and the rest of our family and friends."
Mr Turner spoke lovingly of his grandchildren.
"They'd been going [to daycare] three mornings a week for a couple of months. It gave them an opportunity to meet more children and be involved in a different environment than home and mum and dad.
"They were so proud to show off their schoolbags that they had. Lillie was so proud to tell her grandma that she was going to school now."
Mr Turner said the triplets would be brought back to New Zealand but funeral or memorial service plans had not been made.
"We're not sure what my son-in-law and daughter will want for the babies. We'll let them decide and do whatever they would like to do when we come home."
Prime Minister John Key offered condolences to the family yesterday.
Mr Weekes was chief executive of Eden Park from 1996-2000 and moved to Qatar in 2007. He is working as a senior adviser at Qatar government agency q.media.
Mrs Weekes works as a senior sales officer at Qatar Airways and also ran a monthly coffee group for mums with or expecting twins or triplets.
The Weekes both worked for Interislander before their move to Doha.
Interislander general manager Thomas Davis said the couple were very well liked employees.
"Our thoughts and sympathies go out to Jane and Martin at this extremely sad time."
PARENTS EXPRESS GRATITUDE FOR SUPPORT
The Weekes also put out a statement overnight which said they were grateful for the love and support they had received.
"Lillie, Jackson and Willsher came into this world together and were inseparable as siblings, best friends and the joy of our life.
"Tragically, they left together after only two short years. A time that was lived to the full everyday with us laughing, playing, waking us at all hours of the night and simply being the sunshine in our world.
"We would like to thank everyone for their love and support. Our thoughts are also with the other families affected by this tragedy.''
Qatari authorities investigating the fire expect the first findings in a week, and have promised to set up a committee to monitor safety issues.
Speaking at the vigil, Qatar's advisory council speaker Mohamed al-Kholaifi said the issues needed more attention, Al Jazeera reported.
"I think the Government is very concerned ... such big malls should have more security.''
New Zealand ex-pat Carolyn Roberts, who was among those at the vigil, said the mall fire was a "wake-up call'' over safety at the nursery her daughter also attended.
She told Al Jazeera that staff had already emailed parents with a promise to improve safety.
"They have fire extinguishers, but they don't have sprinklers. They've promised to install them. I think this will make everyone wake up.''
New Zealander Paul Hendra, who was also at the vigil, told Al Jazeera that safety issues were "a bit of a worry''.
"The laws don't seem to be adhered to. The laws are there but it's enforcement that is the big problem.''
INVESTIGATIONS INTO BLAZE BEGIN
Investigators in Qatar carried out their first extensive probes through the fire-ravaged daycare center and other charred areas inside the Villagio.
The blaze and equipment failures that hampered firefighting raised questions about safety measures in the megastructures across the wealthy Gulf.
The findings from the state-ordered inquest are expected within a week, the official Qatar News Agency said.
Commentators quickly called for extensive safety reviews after the sprinkler system malfunctioned during the fire.
"What happened is similar to murder because of the lack of safety measures in such complexes,'' said wrote Saleh al-Kuwari, editor of the Al Raya newspaper in Doha.
An editorial in the newspaper Al Arab urged officials around the Gulf to consider creating special firefighting and civil defense units for the energy-rich region's huge malls. The Villaggio includes an ice skating rink, theme park, movie theater and indoor Venice-style gondola rides.
"Safety requirements must be stressed,'' said the editorial. "They also need regular review.''