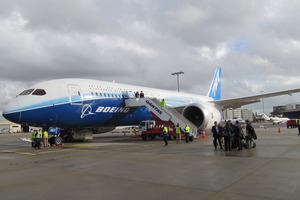 Plane enthusiasts flocked to vantage points around Auckland Airport today for a glimpse of the first passenger-carrying Boeing 787 Dreamliner to land here.
The 787 touched down soon after 3pm after a flight from Sydney as it neared the end of its six month "Dream Tour" which has taken the aircraft to around 40 destinations.
The plane had around 35 Boeing staffers, representatives from customer airline, Air New Zealand, and journalists aboard.
Boeing says the interest from the public has been enormous wherever the high tech aircraft, made largely of carbon fibre, has landed. Plane spotters blocked motorways in Santiago, Chile when the plane put down there and in Istanbul, Turkey it was mobbed by spectators on the runway apron.
"It's like being a rock star," said one staffer. "Except they're interested in the plane, not us," she said.
The plane that arrived in Auckland today is an eight-series aircraft capable of holding about 250 passengers. Air New Zealand has 10 of the larger nine-series on order, due for delivery in mid-2014.
They promise 20 per cent greater fuel efficiency and lower maintenance costs but the programme is running about three years behind schedule.
The airline has voiced its frustration at the delay and its programme director Kerry Reeves was aboard today's flight.
He said from what he experienced of passenger comfort in the demonstrator aircraft, the wait could be worth it.
"The openness of the cabin with its bigger windows and decor gives it a sense of freshness."
* Grant Bradley travelled on the Dreamliner courtesy of Boeing and Air New Zealand.