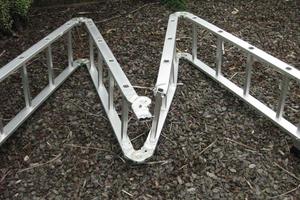 A wide-ranging investigation has been launched into online traders after an Auckland man received serious injuries when a ladder he bought off Trade Me collapsed "like plasticine" within seconds.
The Ministry of Consumer Affairs said the 4.7 metre multipurpose aluminium ladder was branded safe for workloads of up to 150 kilograms.
Its buyer was seriously injured when it collapsed just seconds after he climbed it for the first time.
Ministry of Consumer Affairs Principal Advisor Martin Rushton said tests showed the aluminium on the unbranded ladder was only 1.2 millimetres thick.
"The seller could not provide a valid test certificate to show it had passed safety testing.
"We commissioned our own testing by an accredited laboratory and the ladder failed, collapsing like plasticine under a load of 120kgs."
The MCA, with the help of Trade Me, found about 200 other people who had bought the ladder and warned them it was dangerous, a spokesman said.
The trader who sold the ladder was offering refunds.
A wide range of online traders were now being investigated for allegedly selling unsafe and "dangerously weak" ladders, Mr Rushton said.
"These online traders have shown disregard for the safety of their customers. The ladders they have sold are dangerously weak, with thin metal that is completely insufficient to handle the weight of a human.
"The Consumer Guarantees Act says all products sold in New Zealand must be safe. If you purchase a ladder you think is unsafe, take it back to the trader."
Mr Rushton said buyers should purchase ladders that meet the New Zealand and Australian standards.
ACC's Head of Injury Prevention and Insurance Products Peter Wood said ladders were involved in around 7000 ACC claims for injuries in and around the home every year.
"It's encouraging to see action being taken to prevent unnecessary harm resulting from substandard products."