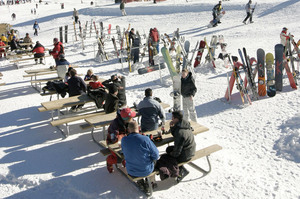 Mt Hutt was to be the first ski area in New Zealand to switch on its snowmaking guns for the 2012 season last night.
A pre-winter chill in the air signalled to Mt Hutt's snowmaking crew members that their moment had arrived.
General manager operations James Urquhart said yesterday that the ski area's team of 12 were geared up to leap into action once temperatures dropped low enough, and that was expected to be last night.
He was on the mountain, revelling in the sub-zero temperatures. He was surrounded by a natural snow depth of five to 10 centimetres in the base car park, and up to 20 centimetres above the quad chairlift.
"Once all the maintenance crew come off the mountain, we will be the first in New Zealand to make snow," Mr Urquhart said.
"It's very exciting."
The mountain's snowmaking crew were split into day and night shift teams.
And the night crew were expecting to make snow all night.
Mr Urquhart said snowmaking was a complex system, which not only required low temperatures, but also low humidity.
"If the humidity stays down we will be going on-line (switching the snowmaker guns on) as much as possible."
The ski area had 76 snowmaking guns, and various lines would be turned on at various times in coming weeks to ensure the skifield had a man-made supplement to its natural snow base.
"It's a bit of a strategic plan," Mr Urquhart said.
"They have certain areas they really have to concentrate on."
These included "roll-overs" which were high traffic areas and needed plumping up so their cover lasted the whole season.
Meanwhile, according to meteorologists, it is just as well that Mt Hutt is revving up its snowmakers.
Tony Trewinnard at Blue Skies Weather was forecasting a "typical average sort of season". Cold temperatures would give plenty of opportunity for snowmaking, but there would not be a lot of southerly snowstorms dropping natural snow early in the season.
It would not "necessarily be the type of season where you get substantial snowfalls early in the season which makes for an exceptional sort of season".
This was due to the fact there was likely to be more anti-cyclones across the South Island throughout winter.
Before anti-cyclones arrived they brought a burst of southerly air flow which could bring snow, but once they arrived the weather tended to stay settled for long periods of time.
"If you are a skier I guess the settled weather is good because you can get up there and ski," Mr Trewinnard said.