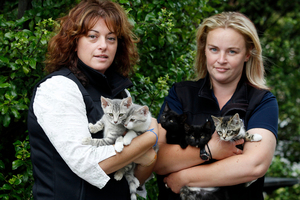 A call to control Hamilton's cats by introducing policies including a night-time cat curfew is prompting Forest and Bird to suggest owners should not replace their cats once they die.
The Waikato SPCA will today ask the Hamilton City Council to consider introducing a cat bylaw in an attempt to tackle the number of unwanted felines in the city.
It is proposing bylaws requiring that cats be kept within their property between dusk and dawn, that households with more than four cats over 4 months old have a permit, and the cats be compulsorily microchipped and registered at a cost of $25 each.
The branch has received huge support for the proposal and the majority of Herald readers who responded to yesterday's article also applauded the idea of a cat curfew, saying it would protect birds and reduce the number of cat fights.
Forest and Bird advocate Nicola Toki supported any move that protected native wildlife and said cats were a threat to the country's birds and lizards.
Last year 26,000 native birds were killed by predators, she said.
"Obviously it's our job to give native wildlife a voice so we would be advocating for things that protect native wildlife - being a responsible cat owner, keeping your cat indoors at night, keeping them well fed and desex them ...
"Maybe when your moggy passes away - if you live in an area where there's beautiful wildlife do you need to get another cat?"
SPCA Waikato funding manager Michelle Locke said the cat bylaw proposal had been drawn up in consultation with cat lovers and other animal groups and was aimed at controlling cats and stopping them from being a nuisance.
The branch was planning to introduce the proposal slowly by tackling Hamilton City Council before approaching the district councils.
Ms Locke said the biggest challenge with the cat curfew was not keeping the cats inside, but changing the behaviour of owners.
The branch felt compulsory cat desexing needed to be tackled through government legislation.
SPCA national president Bob Kerridge this week criticised the cat curfew proposal, saying it was "nonsense". He also questioned how realistic compulsory cat registration was.
Pets on the Net website administrator Kim Buchanan said it was not about choosing cats or native birds - and she strongly disagreed with Forest and Bird's suggestion, which she felt would lead to the "eventual genocide" of all cats.
The website had received mainly positive feedback about the Waikato SPCA's proposal - with the pet-loving members unanimously supporting mandatory desexing.
FELINE FACTS
* Half of all households in New Zealand own an average of two cats.
* 48 per cent of households own cats followed by 29 per cent with dogs.
* NZ has the highest rate of cat ownership in the world.
* New Zealanders spend $766.2 million on pet food a year.
Source: New Zealand Companion Animal Council survey.