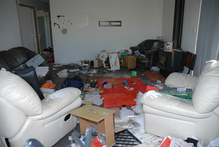 Police have arrested a teenager and three children over the trashing of a grieving family's home while they were escaping a "year from hell" on holiday in Fiji.
Tina and Simon Lovell took their five children to Fiji in April after the death of three family members in the space of nine months.
Mr Lovell's mother and grandmother were killed in a horrific accident in Pukekohe last July and Ms Lovell's mother died earlier this year.
The family returned from holiday to find nail polish, eggs, sauces and oils smeared across walls, bedding and clothing.
Flour was burned in the microwave, paintings had been slashed with a knife and the smell of decaying food from an open fridge had filled the house.
The contents of every drawer, wardrobe and cupboard were strewn throughout their Waihi home and messages such as "Die 2 Nite" were written on walls.
Senior Sergeant Rex Knight said the local community's "sense of revulsion" at the vandalism meant investigators were soon given strong leads.
They arrested four boys, aged 15, 13, 12 and 11, after a search of five Waihi properties on Monday, he said.
The 15-year-old will appear in the Waihi Youth Court tomorrow charged him with burglary and intentional damage.
All three children were referred to Youth Aid.
Investigations were continuing into another male who may have been involved in the vandalism, police said.
Mr Knight said the arrests showed the Waihi community would show no tolerance towards "objectionable" offending.
"Offenders need to be aware that if they become involved in such objectionable behaviour that they will be held accountable to their community."