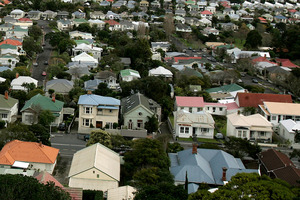 Existing and would-be home owners are being encouraged to "shop around" as banks slash mortgage rates.
ASB last night became the latest bank to reduce its 12-month fixed home loan rate, down from 5.7 per cent to match Westpac and ANZ-National's rate of 5.25 per cent.
Kiwibank set off the latest round of cuts at the end of April, setting a one-year fixed special rate of 4.99 per cent.
Rival banks quickly made their own rate cuts.
Westpac and ANZ-National cut their one-year fixed mortgage rate to 5.25 per cent, and BNZ cut its 18-month "classic" home loan rate from 5.89 per cent to 5.10 per cent.
BNZ's annual fixed home loan rate remained at 5.75 per cent last night.
While the KiwiBank special rate remains the lowest on offer, Institute of Economic Research principal economist Shamubeel Eaqub said customers should be aware that the level of equity required was higher than that required by other banks.
"The KiwiBank rate requires 30 per cent equity. A normal mortgage is 20 per cent equity ... It is a little bit higher than normal, but even then it is cheap."
He recommended people "shop around" as the record low rates indicate a favourable time for borrowers. "Certainly, given the competition for mortgage rates it is absolutely a good time to shop around."
Mr Eaqub said people would be able to reduce their debt under the lower rates.
"We have been borrowing a lot of money leading up to 2007-2008, and we had accumulated a huge amount of debt, and it's now time to pay it down ... A great time to pay debt down is when mortgage rates are low."