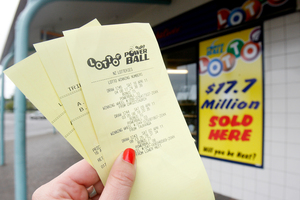 Lotto winners are getting better at claiming cash - but more than $10 million of prize money goes unclaimed each year.
A staggering $75 million has remained untouched since 2005, mostly from smaller prizes, said NZ Lotteries spokeswoman Karen Jones.
In the 2010/11 year NZ Lotteries paid out $498.4 million in prizes to 26,954,853 winners.
Two winning First Division tickets, both worth $333,333.00, are outstanding.
They were bought at the same shop - Auckland's Manukau Beachlands Post and Lotto - just weeks apart.
"It is really unusual to have both outstanding from one store," said Jones.
Six Winning Wheel winners haven't come forward.
"People check their Lotto numbers but forget the serial number for the Winning Wheel," said Jones.
"We urge people to get their tickets checked in-store even if they think it is a losing ticket."
NZ Lotteries publicised unclaimed large prizes before they expired and to tried to find the winners though other means, such as Eftpos transactions.
NZ Lotteries' unclaimed prizes were transferred to the prize reserve fund after the tickets expired - a year after purchase.
Any interest earned on unclaimed prize funds was also transferred to the prize reserve fund.
Money from the prize fund only goes toward special prizes like the weekly Winning Wheel draw and promotions such as the current Mother's Day.