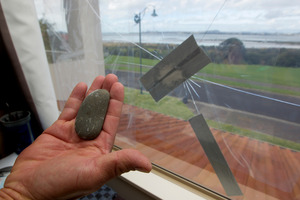 An Asian family who moved to New Zealand for its peaceful lifestyle are living in fear because of sustained vandalism attacks in which eggs and rocks are being thrown at their house in an upmarket street in Te Atatu Peninsula.
Their ordeal started in February when their front door was vandalised. Since then, eggs have been frequently smashed on the windows of their $800,000 waterfront property.
But on Friday the attacks became more violent when hurled rocks smashed a balcony glass panel and bedroom window at the Longbush Rd house.
Waitakere police are investigating.
Retiree Tet Hin Wong, 64, who built the house when he moved from Malaysia with his family nine years ago, said he was worried for the safety of his wife and their three children.
"We have asked ourselves why is this happening to us and why in New Zealand," Mr Wong said.
"We have not done anything to hurt or provoke anybody and, sadly, we have come to conclude that this could be because we are Asians."
Mr Wong said he suspected the attacks were racially motivated because the only other house that had been vandalised in the street was one in which a Middle Eastern family lived.
The second family, who did not want to be named, said that on at least two occasions, eggs had been thrown at their house windows and car.
Mr Wong's wife, Monica, a solicitor, said the family decided to move to New Zealand because of "the peaceful lifestyle" and cannot believe that "such things could happen here".
"It's been terrible, we can't sleep properly at night.
"The attacks have become gradually more serious and we're just so fearful at what the next one will be," Mrs Wong said.
"Now even when we're watching TV, we have to leave our curtain slightly open so we can see if someone's approaching ... what kind of a life is that?"
The family, who are Catholics, turned to prayer to ease their fears after last Friday's attack, which happened just before 10pm.
Te Atatu Neighbourhood Support is circulating an email to residents in the area seeking witnesses and details of the incidents.