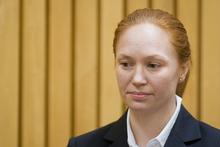 The trial for the former Rotorua woman who allegedly left New Zealand with her partner when Westpac mistakenly put $10 million into his account is set to start next week.
Kara Hurring allegedly fled New Zealand in April 2009 after a $10 million overdraft facility was mistakenly loaded by Westpac into her partner Hui 'Leo' Gao's account.
A total of $6.78m was allegedly transferred into other accounts before he and Hurring left for Hong Kong.
Theft and money laundering charges originally laid against the 32-year-old were dropped and replaced by charges of international money laundering to the value of more than HK$1.5 million [$230,000] relating to activities in Macau.
A further 26 charges of theft to the value of approximately $11,000 were also laid, as well as two counts of attempting to use a document.
Hurring's appearance was excused from her pre-trial callover in the Rotorua District Court today.
Her trial will start in the Rotorua District Court on Monday.