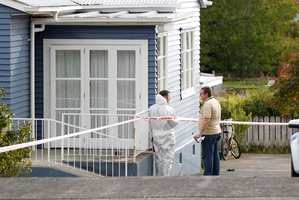 Waikato police have named the 19-month-old baby killed after a free-standing stove fell on him, but have slammed a media organisation for using the wrong name.
Kobi George Collier was crushed when the oven - a conventional kitchen oven and stove top - fell forward as he tried to reach another object.
Detective Senior Sergeant Mike Whitehead of Waikato police said a post-mortem examination had been completed and an interim result had been provided to both police and the coroner.
"The preliminary post-mortem results appear consistent with the circumstances outlined to our investigators by people in the house at the time Kobi died and these results have not altered the focus of our investigation.
"There remains a number of people we still need to fully interview or speak to and the timing of these interviews will be determined by the current situation as many of these people had a close association with Kobi and his family."
The scene examination at the Te Aroha home was completed yesterday and police are now carrying out a forensic examination of the stove, including some form of stability testing.
Waikato police have also implored media agencies to put compassion ahead of commercial interests after the child's family were caused further anguish by the premature wrong naming of the boy. Fairfax news agencies gave the child's name.
Mr Whitehead said that in their desire to be first with the story the news organisation had named the deceased 19-month-old baby as Toby, a name which was incorrect.
"It is indeed unfortunate that long-standing protocols of not publishing a deceased person's name until confirmation has been provided by police were ignored.
"To that end, in consultation with the family we are asking the various organisations to in future, hold back from such activity to hopefully avoid other families being unnecessarily upset as has occurred today."
- HERALD ONLINE