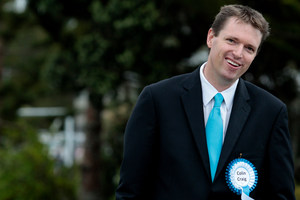 Conservative Party leader Colin Craig is pitching his right-wing party as a possible partner for a National-led government as the Act Party comes under increasing pressure from a donations scandal.
The millionaire property developer confirmed yesterday he would make a run for Parliament if the police investigation into Act leader John Banks prompted a byelection in the Epsom electorate.
Mr Banks has refused to stand down over allegations he knowingly accepted a $50,000 donation from internet entrepreneur Kim Dotcom during his Super City mayoral campaign but declared it as anonymous.
Police are investigating the donations and if convicted of breaking electoral law Mr Banks would have to resign.
Mr Craig told the Herald his party had good support in Epsom and he would back his chances in a byelection or 2014 general election against a "tired and old" Act Party.
Mr Craig said there had been no formal approaches between his party and National, but Prime Minister John Key's electorate chairman Stephen McElrea and Hamilton MP David Bennett had attended his party's public meetings this year.
He believed they would be noting his growing support, which has jumped to more than 3000 members since the party's founding in August.
"If there's a byelection then things get quite interesting and maybe I would be expecting a phone call from National."
He said his party would offer less ideology, more economic sense and more moral conservatism than Act.
Mr Craig opposed National's proposed sale of power companies and would vote against it if elected. The Mixed Ownership Model Bill has the slimmest of majorities, passing its first reading by 61 votes to 60.
The Conservative leader also opposed the sale of the Crafar farms, National's scrapping of R&D incentives, and tax cuts for the wealthy when the Government's books were in the red.
He did not think these differences would be an obstacle to working with National.
The Conservative Party pulled a 2.65 per cent share of the vote in the general election despite spending more campaign money than the Labour Party.
Mr Craig was beaten to the Rodney seat by National's Mark Mitchell by a margin of 11,000 votes. He also placed third in the Super City mayoral race.
Former Act leader and Epsom MP Rodney Hide told TV3's The Nation yesterday that he would not stand in a byelection.