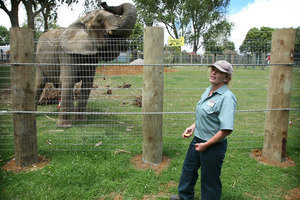 A funeral for the zookeeper killed by an elephant at Franklin Zoo will be held today.
Helen Schofield was crushed to death on April 25 by Mila, a former circus elephant.
Dr Schofield, Franklin Zoo's owner and director, had nursed the animal for two years in the hope of getting her into an overseas sanctuary.
Her funeral service will be held south of Auckland in Tuakau's town hall at 2pm.
Dr Schofield bought the zoo in 2005 when it was in need of a new owner and she saw its animals wanting for better care.
Mila was born in the wild in 1973, but at nine months she was taken into captivity at London Zoo. She ended up at Honolulu Zoo for a brief period before the Whirling Brothers Circus brought her to New Zealand in 1978.
Auckland Zoo staff are now helping care for Mila while the SPCA and the Ministry for Agriculture and Fisheries try to work out her future.
Dr Schofield, 42, had been in talks with California-based sanctuary Paws, which has said Mila is still welcome.
- APNZ