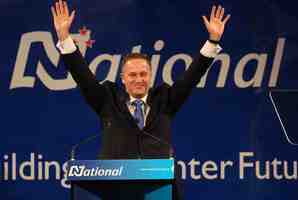 The National Party reaped the most in donations for the 2011 election year, declaring a total of $2.6 million - more than double the $920,538 given to Labour.
Party donation returns for 2011 were released today and show National declared $702,916 in donations of more than $15,000. It received a further $1.04m from donations of between $5,000 and $15,000 for which the donors do not have to be publicly disclosed.
Act got the second highest amount, $1.28m. Labour was third, followed by the Green Party which got $492,591.
The Maori Party declared $100,023, Mana $37,584 and NZ First $48,534. United Future declared $25,000.
Fletcher Building was one of the widest donors - giving $20,000 each to National, Labour, the Maori Party, Act and the Green Party.
Donations of more than $30,000 have already been disclosed under provisions requiring parties to disclose them within 10 working days.
It is the first time parties have also been required to disclose the amount received under the disclosable limit of $15,000. They must now say how many donations they received in bands of less than $1500, $1,500-$5000 and $5,000 to $15,000.
The new requirement gives a more accurate record of how much parties receive in donations, rather than only in large donations.
The issue of political donations has been raised again in the past week after revelations regarding Kim Dotcom's donations to John Banks' mayoralty campaign.