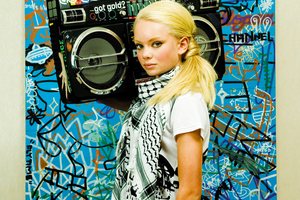 The son of a wealthy jeweller accused of killing his Kiwi girlfriend told police he pushed her on the neck during an argument in the early hours before her death, a British court heard today.
Elliot Turner, 20, told an officer that he had 'defended' himself against Emily Longley, 17, when she attacked him after a night out.
Jurors heard Turner claimed Miss Longley had become angry and lashed out after he had asked her about self-harming issues.
He said he had pushed her on the neck to get her off him and she calmed down before they went to bed.
But when he awoke later that morning he found her dead.
POLICE OFFICER DESCRIBES TURNER'S ARREST
Turner was arrested on the suspicion of Miss Longley's murder later that morning at his parent's house in Bournemouth, Dorset.
Today PC Matthew Buller told Winchester Crown Court Turner had said he never meant to hurt Emily.
He said: "I asked him what the argument was about he me he asked her about her self-harming and said that he loved her and he would always be there for her.
"She became angry. She started hitting him and punching and kicking him. He said that she did kick boxing and she kicked him to the head.
"I asked him what happened. He said 'she attacked me, she was kicking and hitting me and I pushed her on the neck to get her off.'
"He went on to say that she was coughing, he got her a glass of water. She then complained about having a bad headache.
"I asked what happened next and he said Emily calmed down and they went to bed.
"The following morning when he awoke she was dead and he ran to his mum and dad."
PC Buller, who is stationed at Winton Police Station, added: "He (Turner) seemed happy to talk about it. He was clear in what he was saying.
"At times he became upset. He would hold his head in his hands and he would cry. I could see tears."
At 11.29am Turner was escorted from his home into a police car where he was told he was being arrested on suspicion of murder. He was later taken to Poole Police Station.
PC Buller said: "In the back of the police car I said 'I am arresting you on suspicion of murder' and I cautioned him.
"He made no initial reply but a minute later he said 'I never meant to harm her, I just defended myself.'"
The court also heard Miss Longley had experienced psychological problems following the separation of her parents.
Medical records revealed she had suffered with bulimia as well as episodes of self harm.
PATHOLOGIST: CAUSE OF DEATH COULD BE 'SLEEPER HOLD'
The court also heard in the earlier session Emily Longley could have died from compression to the neck, but her cause of death was 'unascertained' after a post-mortem examination.
Pathologist Huw White told jurors there had been no signs of obvious damage to Emily's body internally or externally.
However, when asked if she could have died from asphyxiation, he agreed it could be a possibility.
He said: "If this was the case the process employed did not require a significant degree of force.
"It did not injure the skin or soft tissue on the neck.
"It must have incapacitated her rapidly as there was no evidence of a struggle.
"The later point would suggest that the process involved neck compression rather than suffocation with some soft material."
Mr White went on to suggest that the most likely method of asphyxiation would be the 'sleeper hold,' where the neck is compressed by a bended arm.
He said: "The most likely possibility would be to use a bended arm with the neck in each fold. As the arm bends each side of arm compresses the sides of the neck."
During the post mortem, Mr White discovered small pin prick hemorrhages on Miss Longley's right eye and inner surface of her inner lip.
Mr White said: "These are little bleeds from small veins caused by rise in pressure to the head.
"A common cause for this is a rise in pressure inside the chest or compression of the neck."
Miss Longley was found dead still wearing her make-up from the night before and a blue denim top as well as denim shorts and a belt.
She was also wearing a white metal necklace but Mr White said it had been 'fairly loose' and could not have caused Emily's death.
ALCOHOL FOUND IN EMILY'S BLOOD
Tests revealed Emily had 148 milligrams of alcohol per 100 mililitres of blood but Mr White said it was not significant.
He said: "This is less than twice the UK drink driving limit. It is a moderate degree of intoxication.
"This is somebody who was drinking with friends on the weekends but did not drink every day or regularly."
Winchester Crown Court has heard Turner was jealous and possessive and killed student Emily during a drunken argument.
Jurors have been told Turner had become increasingly suspicious Emily had been having affairs during their four month relationship.
Emily changed her Facebook profile picture from one of them together during a three week holiday to New Zealand in April.
He then allegedly left a message on a friend's voicemail saying: "She changed it to her flirting with some other lads and made me look like a nob."
The court heard Turner later threatened to kill the blonde teenager with a lump hammer and boasted to her "I will go to prison for it and still be a millionaire when I come out."
After the murder Turner is said to have written a letter of confession but it was ruined with bleach by his father, Leigh Turner, 54, to "destroy vital evidence."
Turner was arrested following her death on May 7 last year but then released on bail.
Jurors heard a police bug of the 350,000 pounds Turner home in the affluent Queens Park area recorded the family talking about "fabricating evidence and being worried about lying to police."
The court was told that after the death, Turner's mother, Anita, 51, removed from the house a coat her son had worn on the night of Emily's death.
Police scans of computers seized from the home found Google searches for 'death by strangulation' and 'how to get out of being charged for murder.'
Officers made a series of recordings at the Turners' home between May 18 and June 14 last year.
They then arrested the three family members and charged them in July.
The court heard pathologists who examined Emily's body found injuries consistent with asphyxiation, Turner had scratches on his arm and Emily had his DNA under her fingertips.
Emily was born in Britain but her family emigrated to New Zealand when she was nine and she was raised in Auckland.
She had returned to live with her grandparents in Bournemouth, to study for a business national diploma at Brockenhurst College, Hants, and worked part-time at Top Shop in Bournemouth.
She was also signed up to a modelling agency and had appeared on the front page of a magazine in New Zealand.
Elliot Turner denies murder and perverting the course of justice. His parents both deny perverting the course of justice.
ANITA TURNER'S 999 CALL
Earlier the court heard how Turner's mother made a desperate 999 call after finding the girl dead in bed.
A recording of the call, played in court, reveals Anita Turner telling the controller she cannot wake Emily.
During the disjointed conversation, distressed Mrs Turner is heard saying Emily is in bed and she doesn't think she is breathing.
Later she also tells the operator that the necklace Emily is wearing appears very tight around her neck.
The call was made as 9.45 on the morning of May 7 last year.
Mrs Turner is heard saying: "My son's friend this morning. I try to wake both up but the girl did not wake. I don't know what it is."
The operator then asks if Emily is conscious and breathing, to which Mrs Turner responds 'I don't think she is.'
Her husband, Leigh, can then be heard in the background checking Emily's breathing after the operator tells Mrs Turner to put her face near the girl's face.
He confirms her lips have gone a 'pinky purple'.
Mrs Turner is then asked if there is anything around Emily's neck, to which she responds 'her necklace is very very tight.'
The trial continues.