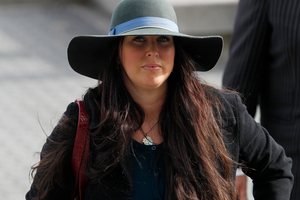 Former Hamilton mayoral candidate Lisa Cocker, formerly Lisa Lewis, looks set to appear before a defended hearing for assault against a man who has already been sentenced for punching her in the face.
Yesterday, accompanied by her partner, Drew Cocker, and lawyer Peter Boylan, she was remanded on bail when she appeared briefly at the Hamilton District Court.
Cocker, who married six weeks ago but went under her old surname Lewis in court documents, is charged with assaulting a man known to her after a housewarming party at her Cambridge home on September 17.
It is alleged that the pair began arguing before Lewis threw punches at him.
The 39-year-old man, who has name suppression, appeared in the Te Awamutu District Court in November for his role in the incident in which he responded, punching Cocker with a closed right fist on the left side of her face.
He was found guilty of assault and ordered to pay $300 reparation for emotional harm.
Cocker later posted pictures of her bloodied face on Facebook and said two of her front teeth had been knocked out.
The attack put her in a neckbrace and she claimed she had to auction her underwear online to raise funds to pay for her legal and dental costs.
Yesterday, the court heard how the matter was essentially a "family feud" and several witnesses from both sides would be called.
Mr Boylan said outside court that it was "bizarre" how Cocker had been charged two months after the incident.
He said a date for a defended hearing was likely to be set when she reappears later this month.
Drew Cocker earlier told the Herald he had blamed members of his family who disapproved of their relationship for the attack.
The normally media-friendly Cocker tried to evade a Herald photographer by covering her face and walking out of court down a side exit when she left yesterday.