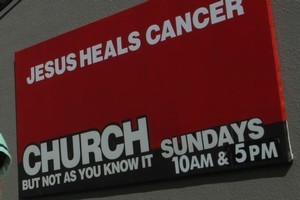 Complaints about a controversial Napier church billboard claiming 'Jesus heals cancer' have been upheld by advertising officials.
The Equippers Church sign, which also displayed a tally of six to signify the number of people the church claimed had been healed of cancer caused outrage among many people, and sparked an investigation with the Advertising Standards Authority (ASA) after nine complaints were laid.
They argued the advertisement was offensive to people with cancer, misleading, as it lacked proof for the claim, and was socially irresponsible.
The [ASA] complaints board acknowledged the church had no intention of causing offence with the billboard and instead wanted to provide a message of hope.
However, it upheld the complaints, ruling the advertisement had "neither been prepared nor displayed with the due sense of social responsibility required'' and therefore breached the code of ethics.
The billboard's claim particularly disgusted the Condin family, whose 3-year-old son is being treated for leukaemia.
As part of her submission the the ASA, Jody Condin described the sign as "offensive and upsetting''.
"(It's) totally disrespectful and hurtful to those that have lost loved ones to cancer or are caring for loved ones with cancer and waiting for them to die.
"How dare they make a claim like this. It is false advertising.''
She said the message on the sign was conveyed more as fact than a message of belief and hope.
"This is dangerous and deceptive as it could potentially offer false hope and lure in the vulnerable in their time of illness and sadness.''
After going public with her opinion in March, Ms Condin received emails and phone calls from supporters across the country, some of whom had lost loved ones to cancer.
In its written response to the complaints, Equippers Church said it never intended to cause offence with the billboard, but acknowledged it may have done so to some members of the community and as a result it had since replaced the "offending'' statement.
The replacement billboard displayed a summarised sentence of a Bible verse: "Jesus heals every sickness and every disease - Matthew 4:23''.
However, in its response to the ASA, the church said the original claim, "Jesus Heals Cancer'' was an expression of Christian beliefs and was supported by results.
"Our belief is substantiated by the fact six people within our congregation have testified to Jesus healing them from cancer.
"It is also our passion to provide a place of support, hope and healing as we seek to build and encourage people in their relationship with Jesus.''
- APNZ