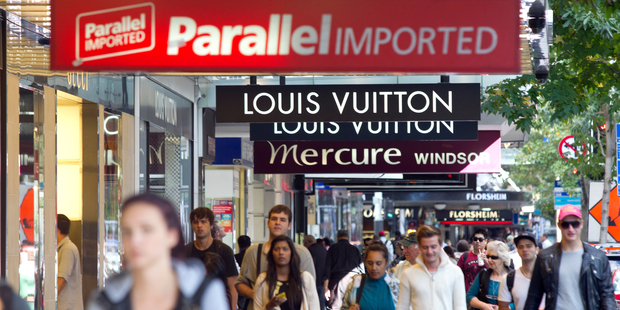 Fashion divas moving out in a huff, tiny broom-cupboard shops moving in ... what has happened to the rebirth of shopping in central Auckland? Geoff Cumming reports
High St is so last decade. That decade's vacant spaces, including Britomart and Wynyard Quarter, are newly fashionable. And Queen St, the once-golden mile, is a hotchpotch.
Downtown Auckland shopping is as headstrong as ever, refusing to glam-up and present the distinctive "shop window" to the international city that Auckland aspires to be.
Despite the millions of dollars in ratepayers' money poured into the downtown area - from paving to street furniture to lighting, the development of "precincts" and now shared streets - the retail therapy on offer is like an ill-fitting suit.
Two current trends have raised alarm in high places that the city's main street and surrounds are moving in the wrong direction: the so-called exodus of high fashion from High St to Britomart and the advent of "shoebox" malls in failed spaces such as Atrium-on-Elliott and Mid-City.
High St's evolution into fashion central (along with Ponsonby and Parnell) in the 1980s and 1990s flew in the face of Queen St's struggle against suburban malls.
But this year's defection to Britomart of Zambesi, World and Kate Sylvester, and the demise of other familiar names, have sparked fears that this destination precinct could be dragged into the same melange that Queen St has become.
Latest to head for Britomart is menswear and bespoke tailor RJB, an anchor tenant in the Metropolis complex. Across the road the former Paris Texas store remains vacant while on the other side of Freyberg Place the Chancery complex continues to struggle for long-term tenants.
At the top end of High St, World's Denise L'Estrange-Corbet took a parting shot at neighbouring cafes and convenience stores when she moved out in February and the space she left remains vacant.
Back on the main drag, broom-cupboard shops in the fledgling Queen St Markets in Mid-City, a former cinema complex, raise concerns that the blocks from Victoria St south are turning into a foreign student market cluster.
Lower Queen St, on the other hand, lacks any defining identity. It's an uninviting mix of souvenir shops, money exchanges, fast food outlets, sunglass racks, banks and the same mass-market clothing stores found in any suburban mall.
The high-end exceptions are Louis Vuitton and Gucci - who rub shoulders with Michael Hill Jewellers and Parallel Imported.
It's all a far cry from the vision of Auckland as a competitive international city with the kind of shopping that currently takes New Zealanders to Sydney, Melbourne, London or Paris. Perhaps, in a city of 1.4 million and a low wage economy, that vision is unrealistic.
Yet along the waterfront, Britomart redevelopers Cooper and Co have shown what can be achieved with redevelopment of the run-down Britomart precinct into a buzzy mix of designer fashion and decor stores, bars and restaurants. The influx of office workers and opening of a carpark and gymnasium in the past year have brought much-needed foot traffic during the day and helped the retail revival.
World, Zambesi and Kate Sylvester, the pioneers of High St designer fashion, have joined the likes of M.A.C, Jo Malone and Ted Baker, while Trelise Cooper has a concept store in the square. Valet parking adds to the convenience.
Britomart's big selling point is that of a single operator. It can control the mix and timing of activity on an entire block under its 150-year lease of the heritage block from the Auckland Council. There's talk that it has lured timid retailers with generous incentives but the suggestions of rent sweeteners are strenuously denied by leasing director Jeremy Priddy. "Each deal was completed at fair market levels."
For established retailers in the "old city" and the council - which has invested hugely in developing the CBD into a 24-hour international city - the concern is that Britomart's success could come at their expense. Throw in the Wynyard Quarter redevelopment at the other end of the waterfront, and some retail and hospitality players complain that these council-driven projects are stretching purses - and the CBD itself - too thin in recessionary times. Instead of moving in one direction, the city is moving in several.
"They call it CBD sprawl, when [the council] looks for everything to happen everywhere, and that doesn't work," says Heart of the City's Alex Swney. "What every area needs to do is do what it does best."
Reports of High St's demise are premature, say established retailers who are going nowhere. Some have rebuffed repeated overtures from Britomart, worried about its distance from the main drag and lack of foot traffic. They point out that Britomart is still an experiment - and several early entrants got burned.
Despite Zambesi's move, the Lower High St/Vulcan Lane/Chancery Lane precinct of heritage buildings is keeping up appearances with old hands Crane Brothers, Workshop, Cody, Strangely Normal and Karen Walker joined in recent years by the likes of 3 Wise Men and Nicholas Jermyn.
Up the road, the concern is who will fill the boots of the high-profile defectors led by L'Estrange-Corbet, who cited the clientele of a nearby convenience store smoking Middle Eastern sheesha pipes as a sign the area was losing its status.
"Some people may see it as snobbery - I don't," she says. "We want our customers to be able to shop in a really nice environment so it's important where we place our shops."
She heaps praise on the environment created at Britomart, from its hand-picked restaurateurs, bar owners and retailers to the bean bags on the lawn in Takutai Square.
"It's what Queen St should have been - instead it's absolutely appalling.
"There's no vision. Landlords don't care - they'll let to whoever wants to pay the rent."
Other retailers note that one of the bigger landlords in High St is the Auckland Council, whose Victoria St carpark and Ellen Melville Hall both have retail frontages which could do with improvement. Some back L'Estrange-Corbet's verdict that a better class of tenant is needed.
Swney says High St's special character will ensure it stays in fashion. He says the big names who've left had evolved from cutting edge to "high-end mainstream" and their departure leaves room for the next generation. "This is just the cycle of successful brands."
The sniping may betray the hint of one-upmanship inherent in retailing psychology, but it also pinpoints the tension between the council's vision of downtown and market forces. The council has always seen its role as stopping at the doorstep.
But Swney echoes retailers' wishes for the council to do more with its own High St portfolio. He's disparaging of a pie cart in Freyberg Place and the layout of the square.
The council could also help with parking incentives for shoppers such as "late-bird" parking discounts and redemptions for purchases, he says.
"You can't just name a precinct and hope."
In contrast, Swney praises the council's streetscape work in Fort St and Fort Lane, complementing Phillimore Properties' Imperial Lane redevelopment.
Part of High St's problem is its very success. Rents have risen and the quirky and diverse up-and-comers have been driven out. Workshop's Chris Cherry, who opened on High St in 1982, says inflexible landlords in these straitened times are part of the problem, with some failing to acknowledge the benefits of a long-term tenancy and the need for flexibility.
"Britomart is evidence of what happens when landlords don't take heed of what tenants need and don't look after their premises."
He says the retailing landscape has changed significantly with internet buying while both market and population growth have been relatively flat. "But more and more developments keep coming - you have to be careful.
"In many cases these developments can only succeed at the cost of another development or another precinct."
But Cherry says he's not too worried about High St's future - the current exodus is "part of a natural cycle for any retail precinct".
"It's a shame when brands move out, but someone else moves in. There's certainly interest in the vacancies."
Cherry says downtown has come a long way with the opening up of the waterfront and the development of precincts and quarters.
"It's just important we make the right kind of progress and stop to consider. Each precinct needs to be looked at in its own light - we don't want shared spaces which look the same all over town."
But if Britomart is destined to focus on luxury and High St retains its sophisticated edge, where does Queen St fit in? It has long been argued that downtown retailing needs a point of difference to drag locals in from suburban malls and to entice tourists.
Moves to turn Queen St into a pedestrian mall have not been supported in the past by retailers and until much better public transport comes along they could worsen traffic and drive shoppers away.
The council's CBD Into the Future plan envisages a downtown with a distinctively "Auckland" character reflecting its ethnic and cultural diversity "as one of the most cosmopolitan cities of the Pacific".
Some consumers, on the other hand, hanker for the luxury labels they currently fly to Sydney, Melbourne, London or Paris for: the likes of Armani, Prada and Chanel. Though the long wait suggests the city lacks sufficient high-end wealth, retail analysts say a shortage of suitable sites and tough times overseas are also delaying their arrival.
But if downtown went too upmarket, it would risk becoming off-limits (for all but browsing) for locals. Queen St still needs a mix of retailing levels - so its "point of difference" from the mall lies in streetscapes, the right mix of activities and entertainment and perhaps "anchor" retailing such as upmarket department stores or arcades.
Right now, Queen St is all over the shop. Earlier this month, Cameron Brewer, who chairs the council's business advisory panel, turned a blowtorch on the rise of small retail partitions in the failed Atrium-on-Elliott and Mid-City complexes, and plans for similar "shoebox shops selling absolute rubbish" further up Queen St. "It completely runs counter to the mayor's vision of creating a world-class city centre," he said.
Brewer criticised council planners for allowing such developments. "The planning department needs to start talking to the economic development department ..."
He now concedes that small retail has its place and it's not the council's role to control the type of shops or what they sell. But he says the council can guide the quality and appearance of new developments. "If we're going to create a world-class city we really need a world-class built environment."
He says the council will spend hundreds of millions in the CBD over the next 10 years but a retail strategy is lacking. "If the council continues to sign off poor-quality developments we're only ever going to attract poor quality retailers.
"We have to pay more than lip service. We have to think about and create an environment that will attract more quality retailers back into the CBD."
Ludo Campbell-Reid, the council's urban design champion, accepts the criticisms. "Everyone needs to lift their game - retailers, Heart of the City, landlords, ourselves - to understand the needs of the city centre and work out where we want to go."
Main streets have to provide a point of difference, says Campbell-Reid, who in England in the 1990s helped traditional town centres fight back against the malls that had set up on the outskirts.
He says cities the world over have attempted to control main street development and some go too far, setting prescriptive rules and regulations. But features such as attractive shopfronts, awnings and verandas, cleanliness and low-key advertising and lighting are common to most successful shopping areas.
He suspects Auckland is over-supplied with retail and should be "focusing on less is more and more high quality".
"We need to be looking, going forward, at who are the right retailers for Queen St and who are not."
Heart of the City is lobbying for retailing guidelines to be included in the unitary (single Auckland) plan which is in preparation. "The council definitely has a role to play," says Swney. "There are already things like heritage overlays - why not a retail overlay prescribed within the unitary plan?"
Swney says the current angst is understandable but is part of the CBD's evolution.
"It's the city - its diversity is the key." He believes the city needs to distinguish itself from mall mediocrity by building on its waterfront location, restaurants, bars and nightlife. "That comes with a bit of grit, authenticity and plenty of diversity - it can't just be high-end."