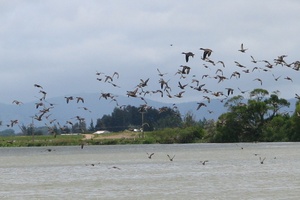 The water quality of a number of Waikato rivers has improved over the past decade but nearly the same number have deteriorated, with levels of nitrogen, phosphorus and E. coli several times above acceptable limits.
Green Party water spokeswoman Eugenie Sage will paddle the Piako River tomorrow in a kayak to highlight water-quality issues. She says fresh water is at a crisis point.
The Piako River is a prime example of the impact of agricultural intensification on the country's waterways, the list MP said.
"The Piako has been in the heart of farming country for some time and the removal of forest vegetation and dairy farming has meant it gets a lot of nutrient sediment and the like leaching into it.
"What this is highlighting is we must be doing much better. We are burdening present and future generations with the clean-up costs."
The most recent Waikato Regional Council report into the water quality of 17 rivers in the Hauraki region showed that the Piako, Waitoa and Waihou rivers were in poor to intermediate condition, being oxygen-depleted and murky.
The report detailed a survey, conducted between 2000 and 2009, which showed these rivers had concentrations of nitrogen and phosphorus five to seven times above guidelines.
The Piako River had E. coli levels - an indicator of human faecal matter - six times above guidelines.
While the report showed reductions in the total concentrations of nitrogen and phosphorus at some sites because of the improved treatment of wastewaters being discharged into the rivers, it said others had increased nitrogen levels.
This was probably as a result of the intensification of farming in the catchments of these rivers.
Ms Sage said the National Government's lack of environmental standards for fresh water meant solutions were needed to keep rivers and streams clean, including keeping all stock out of waterways as well as riparian planting.
Tighter controls were needed on land management to reduce the need for expensive clean-ups.
Federated Farmers Waikato president James Houghton questioned the results of the survey.
Mr Houghton said the days were gone when farmers simply washed the effluent from their sheds straight into waterways.
"We have moved a lot over the past 50 years but we are still working on lessening the impact of what we do," he said.
The report showed that 3360 tonnes of nitrogen and 270 tonnes of phosphorus flowed from 11 of the 17 rivers surveyed into the southern Firth of Thames.
REPORT CARD
The good - Kauaeranga and Ohinemuri Rivers.
The bad - Piako and Waitoa Rivers.
Intermediate - Waihou River.