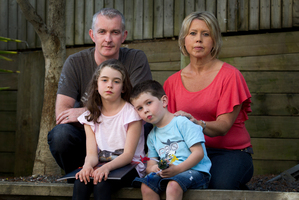 An Auckland dad wants a refund after he took his children to a pricey show and was disappointed after scenes appeared to be cut because of technical hitches.
Trevor Doorley, of Glen Eden, paid $416.48 for two adults and his children Aedan, 5, and Ciara, 7, for Saturday morning's performance of How to Train Your Dragon Arena Spectacular at Vector Arena.
It was an early birthday present for the children who celebrate birthdays tomorrow and next month respectively. However, after 30 to 40 minutes the production hit trouble during the first dragon flight scene, he said.
"It started off quite well but then [the actor] became suspended in one position and you could see that the computer graphics and the animations in the background were going in one direction and he was going in the other."
The show was suspended for 10 to 15 minutes while the problem was sorted out. However, whatever the fix was it appeared to also lengthen the intermission which was originally scheduled for 20 minutes.
That left parents to deal with children trapped in their seats. The show started rolling again with no warning while people were still returning to their seats, and after intermission there were jarring breaks in the storyline.
At one point an actress appeared to be speaking to an empty space where there probably should have been a dragon, Mr Doorley said.
"When I got home, I said to my wife 'I'm pretty sure they've cut out some of the show.' I got home, did some research and they'd cut out another flight scene.
"My son ... he said to me what happened to the bit where they go to the dragon island?"
YouTube footage proved the pair right, Mr Dooley said.
In fairness, he said the actors made a good go of a bad situation but it was frustrating that parents weren't told what was going on during intermission. He's emailed Ticketmaster for a refund - even a part refund.
"I think they should [refund] because we're paying a premium price for the show and we didn't get it. I know some people left the performance before it ended. I think it was badly handled to be honest."
Media spokeswoman Bridget de Launay and Ticketmaster did not return calls.