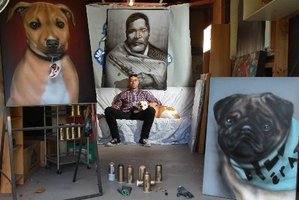 Stories making headlines around the country today: the artist with a talent for dog portraits who is getting noticed by Hollywood stars, flu jab operators who are doing a roaring trade and how Rotorua shop owners are resorting to potentially illegal actions in a bid to prevent shoplifting.
A self-described "Maori boy from Tauranga" has become artist to the stars after painting more than 100 portraits of man's best friend. Graphic artist Graham Hoete, also known as Mr G, has struck a deal with Hollywood actor and former rapper Ice T and his glamour model wife Coco, to paint a portrait of their British bulldog, Spartacus.
There may be a reason why there have been no big Lotto winners in Kaponga recently - there is no Lotto store in this Taranaki town.
Although applications were put forward around three years ago, Kaponga is yet to see any progress. One resident has sent around 20 pages of petitions to the Lotto commission but feels ignored.
Meanwhile in the Wairarapa, the Tui Brewery is hoping to raise about $4000 for the Prostate Cancer Foundation later this month when they put all their big rigs on show. The second Toki Truck Stop Show & Shine will see about 100 trucks on display, with prizes being awarded for biggest rig, best working truck, best company truck, show and shine, best independent truck and the best dressed driver.
Thousands of people in Mid Canterbury have taken steps to protect themselves against the flu this winter, according to medical centres around the region. Canterbury District Health Board decided to extend the free vaccinations for children under-18 to this year - a policy introduced following the Christchurch earthquakes. Figures are comparative to previous years, but the nurses have noticed a lack of children coming through, and they want to change that.
It was lycra and cycles yesterday afternoon as the inaugural Tour of New Zealand riders arrived in Wanganui an hour earlier than expected. The North Island tour included 12 international journalists from Hong Kong, China, Australia and Japan.
Sinking homes are causing problems between neighbours in Napier as some of the owners of houses built over and around a historic Napier landfill are reluctant to have their homes tested. Napier City Council is taking it on the chin. A commenter on the online story said: "De nial is not just the river in Egypt. So homes, in Onekawa, and Pirimai, are sinking into the dump that they were developed on."
A Hastings man is offering a substantial reward to catch culprits he believes are responsible for multiple burglaries of his scrap metal dealership, costing thousands of dollars in damage and stolen parts in the past couple of months.
Rotorua shop owners are resorting to potentially illegal actions in a bid to prevent their stock being stolen. Images taken from CCTV cameras have been appearing in several Rotorua stores as managers and owners try to catch people who have been shoplifting - but a leading Rotorua lawyer says identifying people as shoplifters is not a good idea.
In Hamilton Colin Vincent reports that Hamilton Citizens and Ratepayers Association is recommending drastic measures to reduce Hamilton City Council's debt.
The group says the council should sell the Waikato Museum, Waikato Stadium, Claudelands Events Centre, pensioner housing, interests in hotels and investment properties and consider selling off the regional airport.

Top tweets this morning contained the words and tags: Anzac, Levon Helm, #PoppyDay, Langham, Auckland and #TGIF.