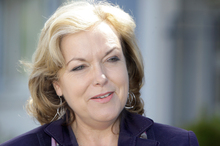 Labour MPs Andrew Little and Trevor Mallard are maintaining that they have not defamed ACC Minister Judith Collins, and say they they will make that clear in responses to letters from the minister's lawyer today.
Ms Collins announced last month that she would take legal action against Mr Little and fellow Labour MP Trevor Mallard, as well as Radio New Zealand, for making allegedly defamatory comments about her over the case of a leaked email about an ACC client.
Mr Little and Mr Mallard last week received letters from Morrison Kent lawyer Philip Ahern requesting that they apologise for the comments, and threatening to proceed with defamation action if they did not. They were given until today to respond.
In his response, Mr Little said he had nothing to apologise for and would "not be intimidated by the continuing threat of legal proceedings".
"As an opposition MP, I am required to hold ministers to account for their conduct and decisions," he wrote.
"The matter is a political one and that is the arena in which it should remain. Your client has ample opportunity to answer questions about the issues in the public arena and to defend her actions, as I would mine.
"Suing political opponents who raise legitimate questions is no way to advance or resolve such and issue."
Mr Little also noted that he had received advice that Ms Collins would face "serious difficulty" if he took legal action against her for telling reporters that he had lied.
"She may care to reflect on that," Mr Little wrote.
Mr Mallard told APNZ this afternoon that he also intended to respond to the letter, but was still in the process of writing it.
"I'm absolutely indicating in the letter that in my view there is no defamation," he said.
Mr Mallard said he was "80 per cent sure" he would respond, and said it was the "polite thing to do".
When asked about the case by reporters today, Ms Collins repeatedly refused to comment.
The minister has continued to deny allegations from the opposition that she or her office was responsible for leaking an email sent to her by former National Party president Michelle Boag.
The email gave details about Bronwyn Pullar, the ACC claimant who went to the media last month after being mistakenly sent the details of almost 7000 ACC clients.
Privacy Commissioner Marie Shroff is investigating how the email got to the media, and Ms Collins has told Parliament she will resign if the leak is found to have come from someone in her charge.
- APNZ
By Amelia Romanos

Email

Amelia