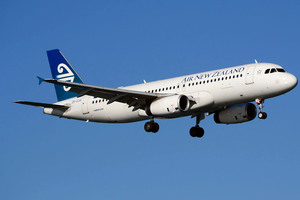 Air New Zealand Airbus A320. Photo / Supplied
Air New Zealand pilots took the correct "evasive manoeuvres'' to avoid the chance of a collision with a light aircraft on Friday, say officials.
The Civil Aviation Authority said yesterday the Air New Zealand Airbus A320 was never at risk and describe the event as "minor''.
The incident took place over the Hauraki Gulf at about 4.30pm on Friday last week as the plane, packed with families returning from Easter holidays in the Gold Coast, was descending into Auckland international airport.
Air traffic control authority Airways NZ initially described the incident as a "potential safety event'', after the paths of the jet and a small plane bound for Great Barrier Island crossed.
Passengers said the Airbus was coming into land when it suddenly made a steep ascent.
Passenger accounts varied: some felt the plane had plunged, others that it had climbed sharply.
One passenger, Deborah Sylvester, 34, said it felt like the steep run on a rollercoaster. "It was very sudden.
"You got that feeling where you lost your stomach. I closed my eyes and hoped for the best.''
Her husband Andrew Sylvester said the plane throttled suddenly out towards the sea for about six seconds.
"The wife absolutely freaked. Everyone was looking at each other. No one was sure what was going on.''
The Airbus climbed 1000 feet to allow adequate distance between it and the smaller plane.
Airways NZ spokesman Lew Jenkins said, "It was looking to being a potential safety event.'' Jenkins said yesterday they would start their investigation into the event.
A CAA spokesperson said all airline aircraft are fitted with equipment which detects the position of other planes via radio transmissions.
Known as Traffic Alert and Collision Avoidance (TCAS), the system alerts pilots if their plane comes within six miles (9.6 kilometres) of another aircraft.
If the system senses another aircraft it audibly warns the pilot and suggests a course of action.
CAA said TCAS alerts were infrequent, and on average the CAA receives about 100 to 150 alerts a year.
- APNZ