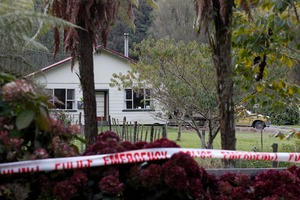 A policeman investigating the alleged murder of a Taranaki caregiver by a 13-year-old boy has called the incident a "very sad case all round".
The woman died almost instantly after being shot at her home near the remote settlement of Urenui, north of New Plymouth, at about 3.30pm yesterday.
The 50-year-old caregiver's partner and neighbours worked frantically to revive her, but their efforts were in vain.
Detective Senior Sergeant Grant Coward, officer in charge of New Plymouth CIB, said that the woman's family and friends were grieving after being informed of the "very sad situation".
"[Her] loved ones are naturally very distressed as are others who know the young boy," Mr Coward said.
The woman's body had remained at the scene of the crime while investigations were carried out, he said.
The 13-year-old boy was stopped by police in a vehicle near Waitara a short time after the shooting.
He will appear today in the New Plymouth District Court charged with murder.
Mr Coward appealed for anyone who saw a white 1993 Ford Telstar car between Urenui and Waikato between 3:30pm and 5pm yesterday to come forward to police.
Neighbour Stacey Ball and her mother, Deanne, rushed to the woman's home after St John ambulance staff phoned to say her partner, - a worker on the Balls' cattle farm - needed help.
"We just thought he had hurt himself, but it was much worse. She'd already passed away by the time we got there but I was told to keep doing CPR," said Stacey Ball, 20.
After "it all sank in" that she had died, her partner looked as though he was about to faint.
BOY 'ALWAYS POLITE'
Ms Ball said the boy always came across as a polite young man.
"They come over here to have coffees and he's always been well mannered. It's just one of those things that you read in a book - it was completely out of the blue.
"I never saw it coming. He's always polite and out helping... with the firewood and out on the farm."
Family members were last night supporting the woman's partner, she said.
Ms Kurth worked as a caregiver, a job which took her around the country. She had recently been to Nelson to look after an ill person.
Deanne Ball said she was a very bubbly, kind and caring person. "But if she had something to say, she'd say it."
Police said a firearm had been recovered from the scene.
Last night, the house was under police guard and the vehicle the boy was in had been taken for examination.
WITNESSES DESCRIBE SHOCK
Deanne Ball said she wasn't coping with what she and her daughter saw and she was still in shock hours later.
"I haven't seen anything like that before in my life. It was horrible.
"The ambulance people kept telling her [Stacey] to keep going [with CPR]," Deanne Ball said.
"I was worried about Stacey, to be honest, but she handled it better than me. I was much more horrified than her."
Stacey Ball worked on her neigbour for five to 10 minutes until a rescue helicopter was able to reach them and paramedics took over.
She said she knew what to do because she had taken a first-aid course for her diploma in professional cookery at Western Institute of Technology.
"It certainly changed your Sunday afternoon - we were just doing the gardening and this happened ... I'm still in a state of shock."
Stacey Ball said she was "doing okay. There's not much I could have done about it. I just did what I've learnt and what the ambulance people were telling us."