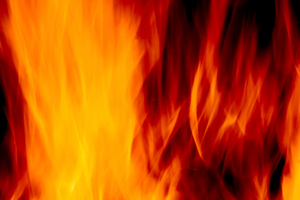 Revellers at a party are believed to have set off two flares that started a large scrub fire in Northland today.
The blaze on the top of a hill near Pataua South Rd, about 26km east of Whangarei, was reported by numerous witnesses at about 10.40am.
A helicopter with a monsoon bucket was called in to battle the blaze due to difficulties faced by ground crews trying to reach the hill.
Fire fighters had attempted to reach the scene by four-wheel-drive vehicles and on foot but were unable to, Fire Service northern communications shift manager Jaron Phillips said.
"There's not a lot we can do still just from the ground because we can't access the fire, so we're just really reliant on the helicopter to extinguish it."
The fire grew from about 2ha this morning to 3ha this afternoon as winds fuelled the flames. It was brought under control by about 2.30pm.
Detective Sergeant John Miller of Whangarei police said the fire was on a small gorse-covered hill with scrub and native bush on one side.
There was no vehicle access to the hill, which had two dwellings at its base.
Mr Miller said the fire was being treated as suspicious after nearby residents reported two flares being set off in the area about 8.30am.
"Inquiries are continuing in particular regards to an address where there was a gathering of people, where a party had gone on the previous night. That seems to be the area where the flares have come from," he told APNZ.
"We can't exactly say what started the fire, but it's a fair bet that the flares might have something to do with it."
Nobody had owned up to setting off the flares and police were continuing to speak to people who had been at the property.
"Hopefully someone will come forward and tell us who set the flares off," Mr Miller said.
- APNZ