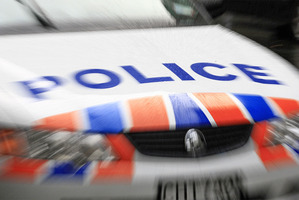 Police are urging people not to risk their lives confronting intruders after the stabbing of a man in Hamilton.
Detective Sergeant Ricky Thompson said emergency services were called to the Saxbys Rd address at about 1.30am.
Thompson said the 31-year-old man, who was home by himself, had been smoking behind his house when he came out the front to investigate a disturbance.
"Our victim has gone to investigate the noise and come around the corner to find a man attempting to force entry into the front door of his home."
It appeared the victim had confronted the intruder who slahed his arm with what is believed to be a knife and stabbed him in the abdomen before fleeing the scene, he said.
The victim suffered serious but not life-threatening injuries and was taken in ambulance to Waikato Hospital for treatment.
Police have completed a scene examination and are working to find the offender.
The offender has been described as a Maori or Polynesian in his late teens or early twenties of thin build and about 165cm tall.
Anyone with any information on the attack is asked to contact Mr Thompson at the Hamilton Central Police Station on 07 858 6200. Alternatively information can be left anonymously with Crimestoppers on 0800 555111.
- Herald Online