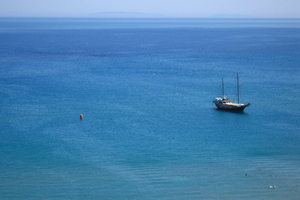 The Australian Government needs to tread very carefully in dealing with 10 Chinese asylum seekers reportedly heading for New Zealand, a refugee advocate says.
The asylum seekers have been granted temporary Australian visas until this weekend and the Government there says it is powerless to stop them from setting sail.
The group reportedly left Malaysia on a yacht last month hoping to get to New Zealand, and stopped in Darwin on Thursday.
They have said they were Falun Gong members and could be persecuted in China.
In a statement today, New Zealand Immigration Minister Nathan Guy said Immigration NZ would work closely with Australian authorities and both countries would be concerned about safety should the group attempt a voyage to New Zealand.
New Zealand Refugee Council spokesman Gary Poole said no one had envisioned a situation like this and there were many human rights implications.
"There are huge legal and ethical issues in international law. The Australians are going to have to step pretty carefully on this one.''
But the Australian decision to grant temporary visas appeared to be passing the buck.
"It's a real challenge for the two governments and it has many implications. I suppose they can't stop those people from sailing onward if that's what they choose to do, provided that they have all legal visas in Australia.
"But I would say that given the bilateral relations between the New Zealand and Australian governments, that they would want to address it in a way that would have safety as the first priority.''
Mr Poole said Australia should consider any asylum claims there.
"The reason they don't want to go to Australia is because they don't want to be placed in detention with thousands of others. And that's understandable that they wouldn't, because I've been involved as an external observer to some of those settlements over there, some of those detention centres, and it's really quite a grim situation for many people,'' he said.
"They believe that New Zealand would have a more humane approach to things. We don't put people in detention generally, and New Zealand does have a reputation for being humane and just in our policies.
"But to cross the Tasman, that's really quite a high risk in a small boat.''
Mr Guy said Immigration NZ has been informed by Australian authorities that the yacht was escorted into Darwin following a call for assistance due to mechanical issues.
"It is understood the yacht may have been bound for New Zealand but most of the group have been granted temporary visas by Australian authorities, which do not expire until this Saturday,'' Mr Guy said.
"Immigration NZ will continue to work closely with Australian authorities to monitor the situation over the next few days and to get more information from the group about what their intentions are.''
Mr Guy said authorities from both countries would be "extremely concerned for the safety of the passengers should they attempt what would be a very hazardous voyage to New Zealand''.
Labour immigration spokeswoman Darien Fenton said it was "a bit alarming'' to hear that the group was trying to get to New Zealand.
"It's pretty unusual, and there were warnings about that from the Department of Labour and the Government about this becoming a potential issue.''
Australia's decision to grant temporary visas seemed to be "passing the buck a wee bit'', Ms Fenton said.
"I'd be hoping the Australian Government would look after them and not encourage them to come to New Zealand.''
If the group did eventually reach New Zealand, Ms Fenton said there would be an obligation to assess whether there was a genuine case for asylum.
"On the face of it, I'm not sure, I wouldn't want to make a judgement about it,'' she said.
"But they're Falun Gong, and we do have Falun Gong people in New Zealand who often bring to our attention what they claim are abuses in China.''
Falun Gong is a spiritual movement that has been banned in China since 1999.
- APNZ