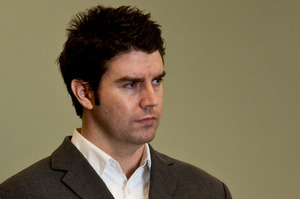 Brad Callaghan's fiancee is standing by him, although their son will be a teenager by the time the convicted murderer is freed from prison.
Tanith Butler and Callaghan became a couple after he split from South African-born Carmen Thomas, with whom he has a young son.
Ms Butler was pregnant at the time Ms Thomas disappeared in mid-2010 and gave birth to a son days after Callaghan, 33, was arrested and charged with her murder.
Court documents show Callaghan tried to dispose of Ms Thomas' body at sea on the morning of a baby shower for Ms Butler.
He has been in custody since September 2010, and yesterday was sentenced to life imprisonment for murder and six years for perverting the course of justice.
He will spend at least 13 years and eight months in prison.
Ms Butler is still in a relationship with Callaghan, and has visited him in Mt Eden Prison. Their son will be 15 years old if his father is released at his first parole hearing in 2025.
Police spoke to Ms Butler during the murder investigation, but would not reveal what was said.
She did not return messages from the Weekend Herald and was not in the High Court at Auckland yesterday for the sentencing.
But Justice Geoffrey Venning acknowledged her support for Callaghan, saying the murder had had a devastating effect on Ms Thomas' family and on Ms Butler and their child.
At the court hearing, new details emerged of the violent argument that caused Callaghan to erupt with fury at Ms Thomas, grabbing his son's baseball bat and battering her about the face and head.
On the day of the murder, he visited Ms Thomas at her Remuera flat because she was worried their son, Jack, was being bullied in school.
She wanted to take Jack out of Victoria Ave Primary School.
Callaghan's lawyer, Stuart Grieve, QC, said Ms Thomas told Callaghan he would get no say in the matter because he was not Jack's father - a claim that caused Callaghan to snap.
The engineer described feelings of "utter rage and being out of control" to a probation officer.
Said Justice Venning: "Something came over you and you started striking her."
He struck seven blows with the baseball bat to her face and head.
A neighbour heard her panicked scream and then whimpering while Callaghan tried to calm her by saying, "Shhh, shhh, it's okay, be quiet".
Crown Solicitor Simon Moore, SC, said Callaghan hit her once more with deadly force.
The blow to the back of her head caused radiating fractures across the base of her skull and caused neurogenic shock to the brain stem.
Mr Moore said the attack was "sustained and forceful" and was made worse because it happened in Ms Thomas' home, where she had a right to feel safe.
After killing Ms Thomas, Callaghan saw the "horrifying scene" at her flat and tried to cover the crime up.
In his submissions to the court, Mr Grieve said it was accepted that Callaghan had embarked on a "detailed and lengthy course of deception" as he went about hiding the body and deceiving authorities about Ms Thomas' whereabouts.
This included asking friends to help him, sending text messages from her phone, dumping her car in Hamilton, and dismembering her body and burying her in the Waitakere Ranges in West Auckland.
But Mr Grieve said the lengths Callaghan went to avoid detection needed to be seen in a wider context.
"The prisoner is a man who is trained to solve problems every day in his professional life ... He realised the enormity of what he had done, and he set out on a course of deception and the course - once embarked on - was impossible to get off."
Despite Callaghan's attempt at a cover-up, Mr Grieve said, it was inevitable that he would be caught.
It was also revealed that police found Ms Thomas' concrete-encased remains when Callaghan told them where to look a fortnight after his arrest.
The judge said Callaghan's overall actions made the case near the most serious example of attempting to pervert the course of justice there could be. "I accept the murder was entirely unpremeditated and I take into account your explanation for acting in the way you did," he told Callaghan.
"Of course, no matter what the deceased said to you that day, and no matter what difficulties you and she had in the past, her actions or words that day provided no excuse for the way you acted."
He accepted that something must have happened or was said that "triggered you and to have made you act in a way you did which was totally out of character".
Justice Venning believed Callaghan was remorseful and now realised the impact his actions had had on so many people.