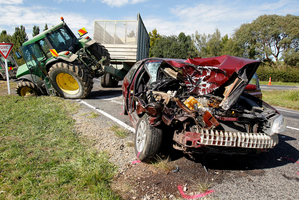 An elderly Hamilton man is in critical condition after the car he was driving ploughed head-on into a turning tractor yesterday morning in what police called a "bizarre" accident.
The crash happened at the bottom of a slight hill on a straight piece of road in fine weather about 9.10am.
The tractor was turning right into Cussen Rd from Kereone Rd, east of Morrinsville, while the Ford Falcon car was travelling towards Matamata from Morrinsville and would have come over the brow of the hill seconds before the impact.
The first person on the scene, sharemilker Richard Worth, said he was a short way down Cussen Rd waiting for the tractor - which was towing an empty trailer to collect maize - when he saw smoke.
He and another farm worker raced to the scene of the accident where they found a man in his 70s slumped over the passenger seat of the car, semi-conscious with a head injury and lacerations to his arm.
"As soon as I saw him I knew he was in bad shape," Mr Worth said. "He was having trouble breathing."
The driver was the car's sole occupant.
Mr Worth called 111 from his cellphone and directed traffic on Kereone Rd until emergency services arrived.
The impact of the crash smashed in the car's front and forced the John Deere tractor on to the side of Cussen Rd where it came to rest on a lean, anchored only by the trailer.
The tractor driver, an Irishman in his 20s who has been in New Zealand only a week on his overseas experience, was not hurt.
But work colleagues at the scene said the man was "gutted" and "shaken up" by the accident.
The Herald understands the young man did not see the car as he turned into Cussen Rd. He was taken to Matamata police station to be interviewed.
Acting Matamata-Piako sub-area manager Sergeant Neil Faulkner said the police serious crash unit and the commercial vehicle investigation unit were trying to figure out what caused the crash.
"It's a bizarre accident," Mr Faulkner said.
Traffic was reduced to one lane on Kereone Rd for several hours and motorists were diverted away from Cussen Rd while the accident was investigated.
Any witnesses to the crash are asked to contact Constable Rob Colley of the Matamata strategic traffic unit.