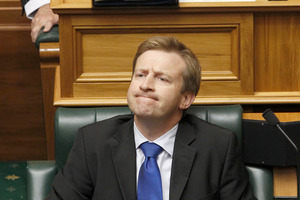 The Government will not appeal a High Court decision to overturn approval for a Chinese company's bid on the Crafar farms, Prime Minister John Key says.
Land Information Minister Maurice Williamson and Associate Finance Minister Jonathan Coleman last month signed off on the Overseas Investment Office (OIO) recommendation to allow Shanghai Pengxin's subsidiary Milk NZ bid to buy the 16 dairy farms.
However, following a judicial review of the decision the High Court overturned the approval, saying the OIO had "materially overstated" the economic benefits for New Zealand, and that the potential benefits had to be measured against an alternative buyer.
Speaking at a post-Cabinet press conference this afternoon, Mr Key said the Government would not appeal the court's decision.
"We've looked closely at it, and we've decided not to," he said.
Mr Key said no time frame had been established for when a revaluation of the Shanghai Pengxin bid might be ready.
Colin MacDonald, the chief executive of Land Information NZ, which oversees the OIO, said last week that the department had finished its new assessment of the bid, and it was being reviewed by Crown Law.
Mr MacDonald also confirmed that Shanghai Pengxin was awaiting another OIO decision on a separate application to buy other New Zealand property.
Shanghai Pengxin spokesman Cedric Allan last week would not give details of the application, except to say that the property was a mixture of residential and other use types, and was valued between $10 million and $100 million.
"There won't be anything controversial about it. It will simply be a change of ownership. It's absolutely nothing to do with farming."
- APNZ