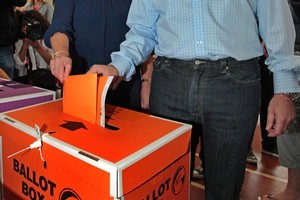 More than 2000 people have already put forward their view on how MMP should be changed in a review of the electoral system.
The Electoral Commission launched a review of the system last month after 57.8 per cent of voters opted to retain the system in a referendum held during the November election, and said today that it had received submissions from more than 2000 people.
Chief electoral officer Robert Peden said he was delighted by the amount of interest being shown in just the first month.
"It's great to see so many people taking the opportunity to share their views,'' he said.
"We've received submissions from all over the country, and really appreciate the time and effort people are putting in.''
Past MMP reviews had received mixed levels of response, ranging from 200 to 800 submissions.
Mr Peden previously said he expected submission hearings to be held in Auckland, Wellington and Christchurch, but, depending on the demand, others could be held in more provincial areas as well.
The review's consultation paper calls for public opinion on several of the voting system's more contentious aspects, including the dual candidacy and threshold rules that allow "back-door'' and "coat-tail'' MPs into Parliament.
The dual candidacy rule allows candidates to stand for an electorate and on a party list, meaning that in some cases an electorate MP can be thrown out by their local constituency but get back into Parliament on the list.
The one-seat threshold allows an elected electorate MP to bring in so-called "coat-tail'' MPs from their party list, even if they do not pass the five per cent party vote threshold.
Another controversial discussion point in the paper is party lists. Lists are currently chosen by parties, but critics have argued that voters should have some say in the order that candidates get to go into Parliament.
The paper also specifically raises the issues of whether list MPs should be able to stand in by-elections, what should happen if a party wins more electorate seats that it is entitled to through the party vote, and the list to electorate seat ratio.
Matters not relating directly to MMP, such as Maori representation and eligibility to vote, are not included in the review but will be looked at in a separate constitutional review.
The deadline for submissions is May 31, although people wanting to speak at a hearing need to have submissions in by April 5.
The commission's final report will be given to Justice Minister Judith Collins on October 31, which Mr Peden said would give the Government enough time to legislate any changes before the 2014 election.
- APNZ