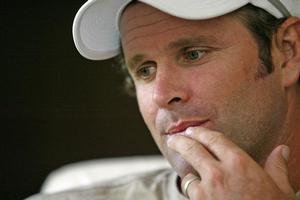 The former anti-corruption officer of the Indian Cricket League has "no doubts" former New Zealand cricketer Chris Cairns was involved in match fixing, based on the evidence he gathered.
Howard Beer gave evidence in the High Court in London on the fourth day of Cairns' libel case against the former head of the Indian Cricket League overnight.
The ICL commissioner Lalit Modi alleged on Twitter in January 2010 that Cairns was involved in match fixing in the 2008 season of the rebel Indian Cricket League (ICL), while captain of the Chandigarh Lions.
Earlier this week Cairns denied the accusations, stating he "was not a cheat" and had not offered teammates money to cheat. He said Modi's accusation had turned his reputation to "dust".
Mr Beer said the investigations into match fixing in the rebel Twenty20 league were "shambolic", but the "overall context" of the evidence he gathered pointed to Cairns being involved in fixing matches, Cricinfo reported.
Cairns' ICL career ended when he was effectively suspended for not declaring an ankle injury, exacerbated by a 1000km charity walk he did in memory of his late sister.
However Beer recalled telling Cairns' New Zealand teammate, Hamish Marshall, who also played in the ICL, it was "no secret Cairns had been sent home for match-fixing".
Beer said the October 2008 meeting at the Shangri La hotel, where Cairns' contract was cancelled, involved a conversation between Cairns and then ICL executive director, former England captain Tony Greig, about corruption allegations.
In the meeting, Greig allegedly compared Cairns to disgraced former South African Hansie Cronje, who was banned from the sport in 2000.
"Don't take this the wrong way, Cairnsy, but nobody would have thought that Hansie Cronje was involved in match-fixing," Mr Greig allegedly said to Cairns, Mr Beer told the court.
Mr Beer told the court he did not stay in the meeting until the end, Cricinfo reported, and the next day learnt Cairns had been dismissed.
He said he was told by Mr Greig the league would announce Cairns failed to declare an injury as the reason for his suspension.
Mr Beer said the ICL then put his corruption inquiry on hold.
"I had concerns that the way the procedure was at that time, there was insufficient evidence to substantiate allegations of match fixing against Mr Cairns," he said, AAP reported.
Lions teammates, including Tejinder Pal "TP" Singh, are also due to give evidence against Cairns.
They have made statements claiming that in his role as captain, Cairns gave instructions to fix a match.
"Chris Cairns, my captain (and) coach came up to me and he ask me to carry out instructions during the match ... loose bowling so that the batsman would be able to hit," Singh said in a statement read to the court.
"He told me he would look after me ... give me money. He did not say how much money ... I realised the captain must be involved in wrongdoing."
However Cairns' barrister, Andrew Caldecott QC, said Singh - who admits dealing with bookmakers and accepting money for match fixing in the past - made the comments in an attempt to avoid suspicion himself.
"Do you accept that there is an obvious (chance) that a player may seek to mitigate his risk by implicating someone more senior and especially the captain?" Mr Caldecott asked Mr Beer.
Cairns' successor as captain of Chandigarh Lions, South African Andrew Hall, also went to Mr Beer, concerned that he was being "set up" by Singh.
"Did you take seriously Mr Hall's suspicion that TP Singh was trying to implicate him after Mr Cairns' departure?"
Mr Beer said he did not, however, while he was contracted by the ICL, the executive board excluded him from elements of their own investigations and information that may have substantiated Mr Hall's claims.
Despite the flawed investigation, Mr Beer confirmed he told Hall he had "no doubts" of Cairns' involvement in match fixing. He said he told this to Hall to ease his concerns about being "set up" for match fixing himself.
Hall is due to give evidence tomorrow.
Cairns represented New Zealand in 62 tests, 215 one-day internationals and two Twenty20s. He made his test debut against Australia in 1989 and finished his international career with a Twenty20 match against West Indies in February 2006.
- Herald Online, AAP