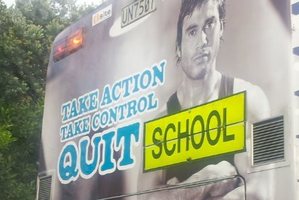 Telling children to quit school wasn't quite what the creators of a smokefree advertisement hoped to say, but that's exactly what happened after a badly placed sign.
The latest Smoking Not Our Future image was inconveniently placed next to a bus' "school" sign - changing the smokefree message to: "Take action, take control, quit school."
Not quite the message that the Health Sponsorship Council was hoping for.
The self-confessed "epic fail" featuring Shortland Street star Ben Mitchell is on the back of four Auckland buses. But there's no intention to take down the advertisements.
Council spokesman Iain Potter said they were first made aware of the mistake when someone sent a photo.
"We found it quite funny so we thought we'd share it," Mr Potter said.
The council posted the picture to its Smoking Not Our Future Facebook page and asked people to rate the "epic blooper": "On a scale of 1 to 10 how would you rate this as an epic blooper? 1 = not really and 10 = totally epic.
ps. Stay in School."
Last night, almost 1500 had commented on the photo with many giving it a 10/10 on the blooper scale.
Mr Potter said they saw the humour in the unintentional error and given that the two-week campaign had only a week left to run, they decided to leave it as it was. "Sometimes you've just got to laugh at yourself, don't you?
"These days when someone takes a photo and sends it round, it's out in the viral world so you might as well laugh along with everyone else."