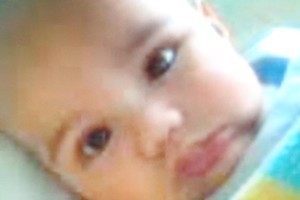 Adam Clarke locked himself in his room and talked to photographs of his dead son before falling asleep with them.
Baby Cezar was just six-months-old when his mother's new partner, James Hemana, picked him up by his leg and violently shook him before dropping him head-first on to a mattress.
Hemana was sentenced at the High Court at Auckland today to life in prison with a minimum non-parole period of 17 years.
In his victim impact statement, Mr Clarke told the court that before Cezar died his life was "happy and uncomplicated''.
"To me, my life was complete. I had a daughter and a son. I didn't have much else.''
But he said Cezar's death changed all that, and now he can close his eyes and be right back in the intensive care unit where he held his son as the baby took his last breaths.
He later told reporters outside court that it was important to say something on behalf of his son.
"I could have spoken for hours.''
The court heard how Hemana had moved in with the baby's mother, who had had Cezar in her care for only a month when the shaking incident happened.
Hemana was annoyed after being woken at six o'clock on a July morning in 2010 by his partner's hungry baby.
While baby Cezar's mother fetched the six-month-old his bottle, Hemana picked the boy up by his leg, shook him violently, and dropped him head-first onto a mattress.
The baby's head crashed into a heavy wooden cabinet but he was not taken to a doctor for 10 days.
Outside court, Mr Clarke said he was happy with the sentence but it had been a long wait for justice.
Asked about Hemana, Mr Clarke said: "He's just like a little child.''
Standing beside Mr Clarke was Cezar's mother, Victoria Taylor. "My son would be happy now,'' she told reporters.
Earlier inside court, Justice Mary Peters told Hemana she would not take into account an earlier episode of shaking and allegations that Hemana hit the baby in the back of the head while he stood in his walkie.
"Cezar was a healthy little baby who was six-months-old and was dead only a month after coming into the household.''
She said it did not matter that Ms Taylor was not sure how many times baby Cezar had been shaken.
"No one who shakes a baby then drops him from head height can think that the baby is going to be ok.''
Justice Peters said she did not find that Hemana displayed a high-level of "brutality and callousness'' as the Crown said.
"You should and could have come to your senses.''
Crown prosecutor Joshua Shaw said not only had Hemana failed to get Cezar help after fatally injuring him, he also prevented his mother Victoria from taking her son to hospital.
"It was not based on ignorance or not realising how bad Cezar was, but to avoid protection.''
Hemana's lawyer Steve Bonnar said the case was a "complete tragedy'' and his client had expressed remorse for what he had done.
"This is a situation where this man was thrust into this role and has acted out of frustration and anger, and snapped in a way he accepts he should not have done so.''
- APNZ