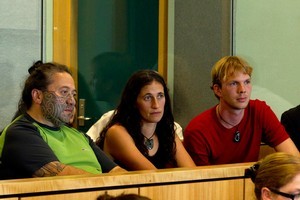 Hidden police cameras captured one of the "Urewera Four'' handing a molotov cocktail to another person at an alleged military-style training camp, a court has been told.
Tame Wairere Iti, Te Rangikaiwhiria Kemara, Emily Felicity Bailey and Signer are on trial in the High Court at Auckland on charges of possessing guns and belonging to an organised criminal group in the Urewera Ranges, with objectives including murder, arson and using guns against the police.
All four deny the charges.
The officer in charge of the case, Detective Sergeant Aaron Pascoe has been cross-examined at the High Court at Auckland today.
He said he believed part of the footage shows one of the accused, Urs Signer, handing a bottle with a rag in it to a woman.
He confirmed that the footage captured only one frame a second and the molotov cocktail made up about 2 per cent of the image.
Mr Pascoe said he had watched some of the video sequences "dozens and dozens of times'' and, based on all the evidence, he was reasonably certain it was a molotov cocktail.
The court has previously been told that broken Steinlager bottles with remnants of diesel and petrol were found at one of the sites that the Crown says was a military-style training camp.
Signer's lawyer Chris Stevenson also asked Mr Pascoe about the police Special Intelligence Group (SIG), of which Mr Pascoe is a member and was set up after the September 11 attacks in the US.
Mr Stevenson asked about a police informant, Rob Gilchrist, who was caught out after his ex-girlfriend discovered emails he forwarded to police.
"It must have gone around the SIG office over a cup of tea, it must have been a major talking point?'' Mr Stevenson asked.
Mr Pascoe said it may have been discussed but he had only learned of Gilchrist after the media stories broke in 2008.
Stevenson asked if Mr Pascoe was aware that Gilchrist had sold camouflage gear and police scanners to protesters. Mr Pascoe said he was not.
The case had light moment when Iti's lawyer Russell Fairbrother asked Mr Pascoe if he knew of the Beatles.
"Have you heard of a song called Revolution?''
Mr Pascoe said: "Don't ask me to sing it''.
Mr Fairbrother said he would not ask Mr Pascoe to sing it "but it preaches a change to the constitution by peaceful means''.
Mr Pascoe said he "would accept'' that was what the song was about.
Mr Fairbrother also asked about Iti's history as an activist and a protester, which included camping outside Parliament.
Mr Pascoe also confirmed that at the time of the police investigation, the then leader of the opposition, John Key, travelled into the Urewera region.
He agreed with Mr Fairbrother that Mr Key went to a remote marae where there was no cellphone coverage. He said there were no issues on the visit.
The case for the defence is due to open tomorrow morning.
- APNZ