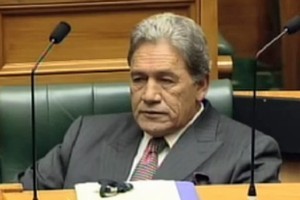 It took longer than many people expected - but it surprised few that it was NZ First leader Winston Peters who took line honours as the first MP to be thrown out of Parliament this term.
Mr Peters' crime was to describe Gerry Brownlee as "an illiterate woodwork teacher".
He might have argued that Mr Brownlee started it - his own comment was prompted by Mr Brownlee pondering how the Speaker could understand "the vagaries of a Winston Peters question".
Mr Peters, a former lawyer, is fond of littering his questions with clauses, subclauses and the odd spattering of Latin.
For years, he has got away with calling other MPs "mendacious sybarites" rather than the more mundane "liars" which would be out of order.
Mr Brownlee got a light telling-off and a big grin from the Speaker but Mr Peters was less impressed. He rose to his feet to say such an insult required an apology, "particularly from some illiterate woodwork teacher" - a reference to Mr Brownlee's past as a woodwork teacher in Christchurch.
The other MPs laughed, but Lockwood Smith was not amused. He had spent the past three weeks embroiled in sometimes pedantic technical arguments with Mr Peters, and those watching knew he was biding his time before he showed who was the boss. This was clearly one point of order too many.
He ordered Mr Peters to leave, saying he should not use points of order to abuse other MPs. The other MPs looked on, some apparently surprised that the benign recreational pastime of poking fun at Mr Brownlee, enjoyed by so many of them, was suddenly elevated to a contact sport.
Mr Peters left quietly at the time, long practised at being ejected from Parliament after similar stoushes with previous Speakers. But he has a highly refined sense of fairness and justice.
He was still rankling from the previous day, when the Speaker let Finance Minister Bill English get away with mocking NZ First for once advocating selling shares in Kiwibank, but halted the Prime Minister when he began to do the same about Green Party policies.
Even worse, he had spent a lot of time yesterday arguing with the Speaker - and losing - about whether Local Government Minister Nick Smith had to answer questions about Auckland Council's use of Deloittes as a consultant when Deloittes was also expected to audit the council.
Sure enough, soon after he left the Chamber there came a tweet: "After the events today, I intend to talk to other parties about the way the House is run." It was signed simply "WP".
Mr Speaker, you have been warned.