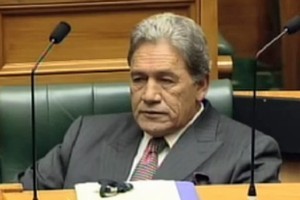 NZ First leader Winston Peters was sent packing from Parliament today for calling National MP Gerry Brownlee an "illiterate woodwork teacher."
It was the first time Mr Peters has been ejected by the Speaker this term - being sent from the House means he can not enter again for the day.
Mr Peters' also takes line honours for being the first MP to be kicked out this Parliamentary term.
He has regularly crossed swords with the Speaker, who has put him on final warnings before.
Mr Peters took exception after Mr Brownlee questioned how the Speaker could understand "the vagaries of a Winston Peters' question."
In return, Mr Peters said such an insult required an apology "particularly from some illiterate woodwork teacher".
The other MPs all laughed, but the Speaker was not impressed. He said he had admonished Mr Brownlee for his comment, and Mr Peters knew he could not use points of order to abuse another MP.