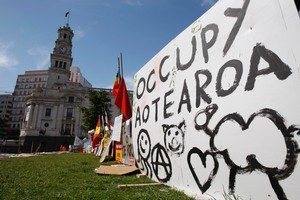 The Auckland Council's security bill in evicting the Occupy protesters included a $38,000 payment to a firm that has previously spied on activists.
Documents obtained under the Official Information Act show some of the council's $126,673 security costs at Aotea Square and other sites included a payment to private investigators and security firm Thompson & Clark. The company was one of three security firms the council hired to manage and evict the protest.
Council spokesman Glyn Walters said Thompson & Clark was not employed for covert surveillance of the Occupy group, which camped in Aotea Square, Queen St and Victoria Park as part of an international movement against corporate greed.
Asked why the council hired Thompson & Clark as well as more conventional security firms, Mr Walters said it needed to increase the number of guards at the site.
Thompson & Clark removed four truckloads of camping gear and equipment after the protest was shut down.
Mr Walters: "For police, it was important that their resources were not tied up in dealing with that. So we contracted in this company to document everything, photograph it, label it, and take it to a secure site and manage its return to each owner.
"We wanted to make sure there was [a] professional, clear approach and proof of ownership process. It was really all about respecting the rights of these [protesters]. There was absolutely no covert surveillance."
Thompson & Clark did not return calls yesterday. Its website says it is a security, corporate intelligence and protection agency helping clients with "the protection of interests, operations and personnel through unique and highly specialised skills and resources".
In 2007, investigative journalist Nicky Hager found that the Auckland company had paid a student to infiltrate environmental group Save Happy Valley for state-owned enterprise Solid Energy. Last year it was caught out attaching a tracking device to an animal rights campaigner's car.